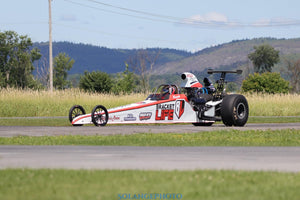 Wrapping Things Up
Hello and welcome back to our BracketLife Blog. It's Brandon back this week and I'm recapping the last couple of weeks spent wrapping the dragsters, going to races, and working BracketLife.
As you might have seen on our social media pages, we completely wrapped both Daniel and I's dragsters with a new BracketLife Brand wrap. Since Rachel and I started BracketLife Brand, we have always wanted to change up the look of the dragsters to represent our brand better – and this was the easiest way to achieve that. From start to finish, we spent nearly 20 hours at the shop getting the cars torn down to the bare body and removing all of the extra parts and pieces. But, the finished product was definitely worth it. The cars look awesome and really stand out on the track.
When we initially set out to get the cars wrapped, we were a little naive about how much work was involved in the entire process. Getting them wrapped was the easy part, but coming up with the design idea was a whole other story. Trying to decide not only on a design that fit us, but also getting multiple design ideas back and not being 100% happy with them was challenging. I wasn't entirely sure what I wanted, but after a lot of back and forth and doing my best to try and come up with ideas that might work for us, we arrived at the final product. As you can see the final product was a huge success and I am very happy with the look. It changes the whole way the cars look. Now we just need to park one in the winners circle!
On another note, we hit the track once more at Luskville Dragway for the first stop of the Canadian Bracket Super Tour last weekend. Friday we were at the track hoping to get started out with a gamblers race but the rain had different ideas for us as it poured rain most of the afternoon. Saturday we got after it for $5K. It was tough out there for me as every opponent I lined up against apparently was swinging for the fences as they were all lights out against me making it a short day of racing!
Saturday night we had our stag and doe, or jack and jill party to celebrate Rachel and I's upcoming wedding which was put on by our wedding party and family. It was a great time and we loved being able to hangout with everyone from the track who came by to see us and all of our friends and family who came to support us as well.
Sunday we were back on track and it was a new day for us to chase more winlights. I was on fire on the tree all day and had a really good rhythm going into round 4 until I met my match and had my day ended. Rachel on the other had was rolling through to the round of 16 cars left before she was done. She was all over it and had a really great day driving the car and hopefully she can keep that momentum going!
This weekend I am headed to Napierville Dragway once again to try my hand out there. Unfortunately Rachel will not be joining me since she has family commitments this weekend but we will keep you updated and do our best to make some money!
 See you next time, 
Brandon Barker
---
1 comment