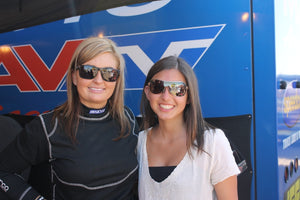 Why Drag Racing?
Hey BracketLifer's, welcome back to our weekly blog! It's Rachel here, and this week I'm sharing the story of how I knew I wanted to become a drag racer. If you've been following along on our blog, you've probably seen that we've been sharing a lot about our personal racing experiences. If we are being honest, Brandon and I have been having a lot of fun writing and reminiscing on some of the topics we've written about lately, so we hope you love them too!
In my last blog post, I talked all about my journey to becoming a junior dragster driver (read it HERE!). But what I didn't get into detail about was why I wanted to become a drag racer.
If you aren't familiar with my background, my entire childhood was surrounded by cars – in large part because of my dad. My parents owned and operated an automotive garage (and still do!), so I spent a lot of my childhood visiting my parents at work, which was right down the road from our house. My dad spent most of his spare time building and showing "show" cars, and I honestly knew nothing else.
By the time I started elementary school, my dad had shifted from the car show scene and moved into the drag racing scene. This was the first time I was ever really interested in wanting to learn more about cars, which was pivotal for me at that point in my life. See, this was the age that every kid was suddenly finding the sport they loved to play, and I not only sucked at all athletic sports, but I didn't enjoy any of them at all. When I started to see my dad go racing and competing against other drivers – I began thinking that maybe I wasn't meant for athletic sports. Maybe I was meant to be a drag racer.
Everything changed for me after my dad started drag racing. All of a sudden, I was eager to spend my afternoons (after I got off the bus from school) working in the shop with dad. I wanted to learn how to do an oil change, change a tire, and enjoyed helping my dad and their employees wash cars. I also made it my mission to convince my mom to let me go to the track with dad as much as possible!
Over the years, drag racing continued to seep into our lives more and more. First, it was dad travelling to the racetrack, then we were watching all of the NHRA National Events on TV, then we were in Florida visiting the Don Garlits museum. But what really did it for me, was watching the Disney movie 'Right on Track' about Erica Ender's drag racing story as a young girl in the junior dragster division. After watching that movie, I KNEW I wanted to be a drag racer. And when I went to the track with my dad and saw other girls driving junior dragsters, I REALLY knew I wanted to become a drag racer.
I think a lot about the importance of having a role model to look up to. For me, Erica Enders was my role model and still is to this day. As a young girl myself, watching her drag racing career take off was huge. Not many girls were doing what she was doing, with the exception of the few female drivers who came before her, and I truly believe she made a huge impact on me wanting to become a drag racer.
Being in a position to now share my story with other young girls, even though it's not a huge platform like Disney, is something I am so grateful for. I love seeing how many women are now in our sport and I can't wait to see all the women who will come after us.
Why did you become a drag racer? Was there anyone who impacted you or influenced you to become a drag racer? Share below.
Catch you next-next week,
 Rachel Ogilvie
---