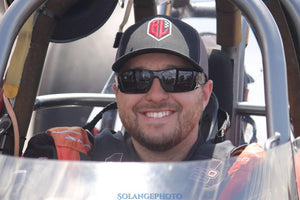 Where To Go From Here
Hey everyone! Welcome back to the blog with me, Brandon. This week, I'm talking about what keeps me motivated to continue moving forward in life, business and racing. Currently, there is a lot going on in terms of work, racing, and BracketLife Brand. Summer is by far the busiest time of the year for me, and the best way for me to handle the stress and work load of it all is to "find the light at the end of the tunnel". It might sound cliché, but I always try to set out small milestones for myself to achieve along the journey towards my bigger goals.
From a business standpoint, we officially launched our online website one year ago. Now that in itself is a great milestone, as we honestly weren't sure what our first year in business was going to look like due to COVID-19. But ...now that we have officially hit this milestone, it raises many questions about the future. What's next? Will we continue on with the same strategies we had in our first year of business? Will we change directions? What will our next product be? And while we continue to map out what year two will look like for BracketLife Brand, my hope is to have all of our plans, products, and goals laid out in the next few weeks. This way, we can start to determine what it is going to take to achieve our plans and what milestone I can work towards next. 
On a side note: our brand new graphic shirt and tumbler launches TODAY (be sure to check them out here)!
On the racing front, the thought of being able to pay for and maintain our program is always in the back of my mind. Entry fees can be expensive and winter maintenance costs can creep up on you – and like anyone else, I'm always trying to make it work. Since Rachel and I moved in together and purchased our first toter home together, it's added quite a bit of responsibility to my plate. One thing I do to try and distract myself from the thought of money and other responsibilities is to remind myself of my past successes behind the wheel. I always try to think back to The Million Dollar Race (in 2018) when I made it down to 16 cars and what that moment felt like, or a big money Super Tour race. These exciting moments help remind me that I am capable of winning again and push me into that headspace I need to be in to win. Obviously, it was great to see huge success at Napierville a few weeks ago and to be able to cover our costs – and right now we are using that to continue pushing ahead to be successful!
What keeps you motivated to continue moving forward in life, business or racing? Share your secrets to success below.
Catch you next week, 
Brandon Barker
---
2 comments