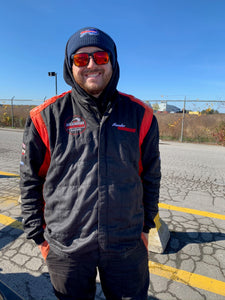 What's Up?!
Hey everyone. Welcome back to the blog with Brandon once again and this week I wanted to give you an update on what's up with me and what my plans are coming up.
Lets start out with my birthday present. My lovely family got me a new helmet and the first thing I did was send it to Jasper. It is now there awaiting to be picked up by Sketchs Ink to be done over with a fresh paint job. If you have seen my current helmet it was designed to honour and remember hero's who have passed away. "Blue Skies & Green Lights" was a tribute to my late grandfather, Jim Parkhurst, and my "Betty Boop" for an old Shannonville Drags legend, Bob Gauley. I hope to once again pay homage to those two as well as the beginning of the Parkhurst Motors Racing Team so you will have to wait to see what we come up with.
Second on my list is how I am staying occupied and working on my racing fundamentals. Last year I signed up to be a member of This Is Bracket Racing Elite, a program focused on helping average racers level up on and off the track. Right now, we are mid-way through "Elitefest", which is a week long online training about track strategy, tech help, and preparation. At the same time I am actively participating in the "Corona Lockdown Online Practice Tree Challenge". This is a Facebook group where we participate in weekly competitions, encouraging us to continue making practice hits and keep that competitive edge over the off season.
Last but not least I am working on the launch of the official BracketLife Brand Youtube Channel. Our plan for this channel is to highlight Canadian drag racing by bringing you all of the news and upcoming events. Drag racing in Canada has missed out on the spotlight it has deserved for a long time. So I say it is about time we started to highlight the best in our sport.
Make sure you pay attention for progress reports. I will continue to not only keep everyone up to date with what is going on, but also to keep me honest and on track with goals I have set out to accomplish.
See you next time, 
Brandon Barker
---