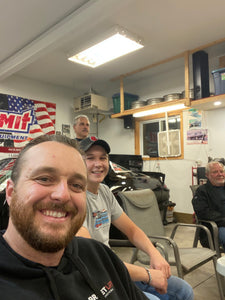 Welcome To The Off Season
Hello and welcome back to the blog! It is Brandon back this week with some very disappointing news, we are done drag racing for 2021 and I am still not over it as you can tell.
I partially feel relief to sit back and relax a bit to catch up on some other aspects of life that needed attention (such as cleaning our house and putting away the wedding gifts) but the pace for us does not slow down very much. For anyone who knows Rachel knows that she is full throttle full time. We spent our first weekend at home cleaning out the Toterhome, getting all our BracketLife inventory back in order and hanging out with friends.
On the other hand, I wish we were still racing.
But now that we are done the season, I need to start working on my winter list of what needs to be done on the cars. Naturally I already have a plan for what I would like my 2022 race season to look like! First off, I would love to buy a super charger. In reality, that probably won't happen and wouldn't be the best move to make, but I would still love to have one. Second, as it stands right now it looks like the border between Canada and the USA will be open for crossing here soon so that should mean we are going racing south of the border again! I have a schedule that I am already working on for some "can't miss" events I am going to try and hit next summer. The Spring Fling event in North Carolina, the SFG event in Michigan, I would like to try and go to some of the big money events at Empire Dragway in New York and maybe sneak in one of the Million Dollar events next year if we have a successful season!
Before all of that though we do have a pretty jammed up schedule, as we are finally able to attend the Luskville Dragway Banquet to celebrate the seasons champions in a couple weeks. Rachel and I also have our Honeymoon lined up in December, which I am very excited about because it has rained for the past 2 or 3 days straight here and thinking about being back in the sunshine on a beach in Mexico is really starting to get me excited to go!
Other than that, we have some very exciting BracketLife news coming as we set up plans with marketing partners and get a direction on how high we can take this all.
So, until next time,
Brandon Barker
---
1 comment