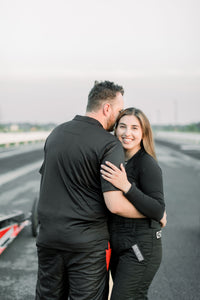 Meet Rachel!
Hello #BracketLifer's and welcome to our blog! If I am being honest, Brandon and I are super new to the business world, and are so grateful for your support! Our vision for BracketLife is SO big - and we can't wait to drive through this new journey with all of you!
Seeing as this is our first ever blog post, I thought it would only be fair to introduce Brandon and I. So, who are we? We are two Canadian Bracket Racers who fell in love with the sport (and then with each other). We are currently engaged and are in the midst of planning our wedding for October 2021. Throughout the wedding planning process - we came up with the idea for BracketLife, and well ... here we are!
On a more personal level, I'm 22 years old and was born and raised in a small town just outside of Smiths Falls, ON. I spent most of my time as a kid travelling to car shows and drag strips with my dad. My parents own an automotive garage, so it's safe to say that I grew up loving cars from the beginning. 
Throughout elementary school and high school – I attempted to play every sport I could. Long story short – I sucked at all of them. When I was 8 years old, my dad took me to an IHRA divisional race in Englishtown to watch him compete. I vividly remember eating Doritos for dinner every night (sorry mom!) but also, seeing my first junior dragster. I was so intrigued and the first time I had ever truly been interested in a sport! I asked my dad every question in the book – but most importantly – could I drive a junior dragster?! Five years later, my wish came true and I began racing in the junior dragster division at our local race track with my younger sister.
In 2015, I graduated from high school (and the junior dragster division), and was able to make the jump into a full-sized dragster! Funny-enough, I was not ready to give up my junior, even though I was about to turn 17, and competed half the season in my junior and half in my big dragster! 
Over the next four years, I made the decision to go to university 6 hours away from home (8 hours away from our local race track), and spent most of my summer/fall weekends driving (or flying) home for race weekends. I never missed a single race or racing banquet – with the exception of third year when I was President of Students' Council for my university – where I missed a few race weekends. Last summer, I graduated from Western University with a Bachelors of Management and Organizational Studies (Honors Double Major in Consumer Behaviour & Leadership). 
My most memorable university moment was definitely when I travelled with my dad and Brandon to Alabama for the Million Dollar Race! I made the decision to miss an entire week of classes, but planned it all out so that we would be back in time for my two university exams the following Monday night. What I didn't plan for was the bad weather we got that Saturday – postponing the million-race from the Saturday to the Sunday. Long story short – we competed in the million-race on Sunday and Brandon made it down to 28 cars double entered (14 cars as a single entry)! It was by far the coolest racing experience I've ever been a part of BUT I definitely missed my two university exams … I spent the next two months fighting with the university to let me make up the exams (P.S. – I won the fight and they let me write them)!
Ok... back on topic! So, what have I been up to since graduating university? Well, over the last year – a lot has happened! I moved to a new city (Brandon's hometown) after being in a long-distance relationship together for 1.5 years. I got my first real, full-time job. Brandon and I spent our first summer together – racing approximately 27 consecutive weekends – with Brandon winning 7 races, and 4 runner-up finishes. I won Most-Improved Racer in the Canadian Super Tour Points Series last season (more on this topic another time). Then, if that wasn't exciting enough – 2 days before Christmas, Brandon proposed to me (I obviously said YES)!! 
So, as we move into the second half of 2020, I'll be busy planning a wedding, navigating the launch of BracketLife Brand, being a business partner to my new fiancé, racing every weekend at our local drag strip, OH! And catching up with all of you here on the blog bi-weekly!
Every Wednesday, we will bring you a new blog post. One week you will hear from Brandon, and the next week you'll hear from me. Throughout our blog posts, we will be chatting about different bracket racing lifestyle topics, and what we have been up too lately. 
Be sure to subscribe to our BracketLife Bulletin (email list) to be notified each time we publish a blog post. Next week you'll hear from Brandon as he shares a little bit more about himself with all of you.
Catch you next-next week,
Rachel Ogilvie
---