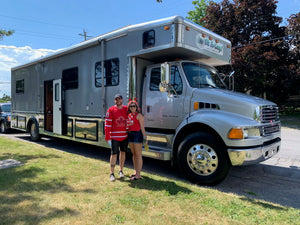 We Bought a Toterhome
 Hey there #BracketLifer's,
It's Brandon here, and this week I will be talking about Rachel and I's largest purchase together. We bought a TOTERHOME! For those who might not know exactly what that is, it is a mix between a transport and a motorhome. This is something that both Rachel and I, as well as many other young racers dream about having one day. It makes travelling to and from the race track a million times easier.  
So, what's the story? Well, on a regular Wednesday night in July, we were getting ready for what was supposed to be the first Canadian Bracket Super Tour event of the year. I was scrolling through racingjunk.com as I usually do when I get bored, and I came across the ad; for what is now our racing hauler. As I do with most things I find online, I send it to Rachel. To preface this, I send her a lot of ads. Every race car, house, motorhome – you name it! If I think it's cool I send it to her. You could say she's gotten really used to being sent ads every day, but unlike all of the other ads, this one also caught her attention. She replied back to me saying 'buy it'. Later that day, I sent an email to the seller, just to see what the response would be like and then I carried on with my day. 
As the week went on, the Canadian Bracket Super Tour event was cancelled due to the bad weather forecast. With nothing to do for the weekend, we packed up and headed to Jasper to spend the weekend with Rachel's family. I spent Saturday at my future father-in-law's (Mike) race shop where we happen to start talking about the toterhome ad. After some discussion with Mike, I decided to call the phone number on the ad – since I hadn't heard back from the first message I'd sent online.
That first phone conversation sparked a lot of excitement and lead to another phone call on Sunday. By the time we got off the phone Sunday, we had scheduled to meet on Canada Day, around noon, in Milton, ON. We quickly made a few phone calls and a couple bank visits early that week, as much fun as going to the bank during the pandemic is, and we were all set to hit the road to check out the toterhome. 
Since it was Canada Day, we had decided to host a small gathering with our immediate families so Rachel and her mom Vicki hung out at the house while Mike, my brother Daniel and myself took off to go see the toterhome. Long story short, we arrived in Milton at noon, checked out the rig and quickly realized how great it was.  About an hour later, we wrote a cheque and hit the road in our new to us, TOTERHOME! It was just after 3:30 pm when Mike and I rolled up to our house to show off Rachel and I's new toy (she still hadn't seen it yet). Of course, we loaded everyone up in the toterhome and started touring around the city to see my extended family and show everyone what we just bought (social distancing style). 
Now, just over a month after our purchase it has 100% changed the way we go racing. It has given us more independence, allowed for my mom and Nan to come with us to the track, and given us an office on wheels for BracketLife, as well as every other benefit that comes along with owning your own hauler. 
As time goes on and the trips continue, we will have many more stories and adventures to tell you about. Thanks for reading and I will talk to you again in a couple weeks! 
See you next time,
Brandon Barker 
---
6 comments