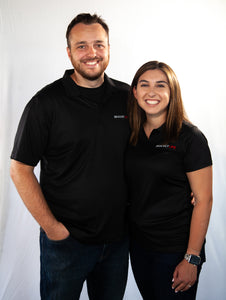 We Are Going to PRI!!!
Hey BracketLifers! Can you believe today is December 1st? I know I can't. I feel like this whole year has gone by in the blink of an eye. As we finish off the last few weeks of 2021, Brandon and I are gearing up for our busiest month yet! Next Wednesday, we are headed to the Performance Racing Industry (PRI) Trade Show in Indianapolis, IN. We are SO excited! Not only do we get to see and meet some of the top people in the industry, but it is our first trip out of the country in over 2 YEARS! I thought this day would never come.
For those that don't know what PRI is, it's the world's largest gathering of motorsports professionals, bringing together 1,100 exhibiting companies with 70,000 attendees from all 50 states and 70 countries. Every December, they host a three-day trade show in Indianapolis – and it's the first time we've ever had a chance to go!
Luckily, my mom and dad have gone to many PRI and SEMA shows in the past, so they will be able to show Brandon and I the ropes. We are super excited that they will be joining us at the show as well.
If you happen to be reading this blog post, and you are also going to PRI – let us know! We would love to meet and connect with you at the show! We will be there all three days! And for those of you who aren't going to PRI, we promise to keep you updated on all the fun! We hope to be able to vlog our journey and will post it on our YouTube Channel as soon as we can!
I hope everyone has a great December.
Catch you next-next week,
Rachel Barker
---
4 comments