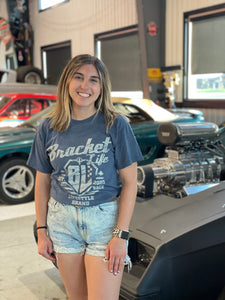 Vintage Apparel Launch
Hello and welcome back to the blog, this week it is Brandon with you to talk about the new BracketLife apparel we have launching today!
Rachel and I are extremely excited to introduce our fourth collection of BracketLife apparel. This collection will be known as our 'Vintage Collection' and will take you back in time. Through these designs, we try to embrace what a racing shirt can be. While many racing shirts are filled with colour and flashy designs with a race car on top (trust me I do love those designs also) the new apparel focuses on our branding of good old fashioned grass roots racing and the drag racing lifestyle.
Starting off with the Crest shirts which are the same design we have on our long sleeve shirt and is our first cross over to a casual wearing design. A classic look made to wear anywhere from at the track or to a nice dinner. This shirt comes in colour options of Black, White, Heather Grey or Blue. The Blue option of this might be my favourite option because it is a fresh mix up from my usual black t shirt collection that is just nice enough to wear out to dinner and is not ruined from stains after I wear it for a day at the track.
Next, we have our official Vintage design which is one of the best designs we have made so far. This really hits the vintage feeling with the front engine dragster planted front and centre on the shirt followed by "It's a lifestyle" because it really is. This design to me shows the beginning of drag racing with the old school dragster and represents how far the sport has come since then, but the mentality of the racers and people involved are still the same being fuelled by the thrill of going to the race track.
The Vintage Design is offered in a t-shirt in Navy and Heather Grey. We also offer this design on the back of a hoodie and is also available in Navy or Grey.
We really have a great product that is very comfortable to wear and will stand out from the usual racing shirt designs we are all accustomed to. Check out all the products online or at the track where we will have them set up on display along with all the other apparel and products we offer.
As always, thank you for taking the time to check out our blogs every week and keeping up with Rachel and I. We appreciate all the support we get from every one of you and plan to keep bringing you great content and even better products.
I will talk to you here again in a couple of weeks.
Brandon Barker
---