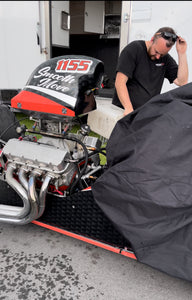 Tornado What?! Derecho Who?
We are back for the 2022 season! It is so nice to finally be back on the track after the LONGEST winter! I don't know about you, but this winter was such a drag [pun intended, lol!] … But now that the snow is gone and the sun is out, everything feels right in the world!
The weekend of May 14th was our first race of the year at ICAR in Mirabel, Quebec. With a rainy forecast in the schedule, we were only able to get Saturday's race in [which we knew was the plan a head of time]. I ended up making it to fourth round, which for me was an accomplishment! I was actually surprised with how comfortable I felt getting back into the car for the first time and how focused I was each round. With Brandon making it to the finals that day, it was definitely an exciting first race day for all of us!! It was also a great first race to get back into the groove of things and having Sunday to relax was a bonus! My favourite part was hitting Herb's truck stop for breakfast on Sunday morning! It's almost become a tradition now for us to have breakfast there on Sunday's.
This past weekend (May 21st) was quite the welcome back to our second home, Luskville Dragway! Again, we knew heading into the weekend that the weather forecast did not look great – so we had planned to run both races on the Saturday (just to be safe). The first race was $5,000 to win, and it was also the Mulligan race – which means you can purchase an extra 'life' to get back into the race after you lose (any round). I was really excited for this race, as you can typically go a few extra rounds than usual, but sadly my day ended early. I did not win a single round that morning …
Brandon however, was on a winning streak and going rounds. He was double-entered into the race, driving both his and his brother's race cars. But at 3:00 PM that afternoon, we could tell the weather was starting to get worse. It started to spit rain and we knew if it continued to rain any harder, that we'd be done for the day. We got one more round of racing in before the Emergency Weather Alert popped up on our phone. 25 minutes later … a freak storm hit us! Taking the hydro out, flipping over multiple trailers and garbage bins + debris everywhere. They say it wasn't a tornado [but a derecho] … but boy did it feel like a tornado! After about 15 minutes the storm ended and that concluded racing for not just the day, but for the weekend! We all jumped into cleanup mode, and the track staff + drivers spent the rest of their long weekend putting the track back together.
Fortunately, nobody got hurt and we will be able to finish the race in two weeks when we are back at Luskville again. Brandon is still in the race at 5 cars and will be chasing his first win of the season! Until then, Brandon will be headed to Napierville Dragway this weekend to compete for $3,000 and I will be headed back home to host a Baby Shower for my best friend!
I hope you have all had a great start to May!
Catch you next-next week,
Rachel Barker
---