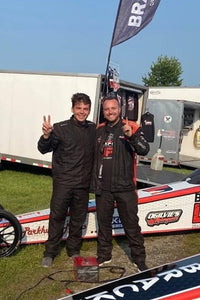 Throwing The Monkey Off My Back
As most of you might have seen, I finally sealed the deal in a final round for the first time this year.
It's Brandon back with you again this week to talk about the feeling of "relief" I felt to get back in the winner's circle.
In 2015 I won my first "big money" race in Miramichi, New Brunswick. Then in 2017 I won the Bracket Bonanza for the first time along with a few others. 2018 became my year as I began to tear it up at almost every event we went to which ultimately led to a Points Championship and our wild trip to the Million. 2019 I found similar success and rolled through on cloud 9 and we were on top of the racing world here.
Now bring us to 2020. Covid hit, we bought a motorhome, while Rachel and I spent our first year together engaged. It was a big year for us all, which in turn added a boat load of stress on my racing program. I won 4 events at Shannonville which was a great accomplishment but wasn't as big of a fish as I was looking to catch if you know what I mean. Reflecting on the year I needed to work on adapting to having a busier day-to-day life.
Fast forward to 2021, and having a fresh start at the track. I have had a great year up to this point but had been struggling to get out of my own way in final rounds. I could roll through the early rounds of a race and be as good as I've ever been. Then when I started closing in on the final rounds, I would lose all confidence in myself. I felt like I would forget how to drive. That in turn led to less success in the final round. The trip to Grand Bend seemed to be exactly what I needed to turn it around. Being surrounded by new faces and a fresh environment. I had my swagger back in the car. I was rolling and had no doubt in my mind I could win any race. I cashed in on the gamblers race before we began running into some parts failures slowing us up, but it feels like the Brandon from 2018 is back and ready to take advantage of the remaining races we have coming up!
Catch you next time, 
Brandon Barker
---
1 comment