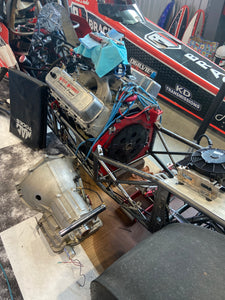 The New Season is Coming Soon
Hello! Welcome back to the blog, this week with Brandon once again and we are talking about how I can not wait to go racing. Right now we should be getting ready for the Motorama Car show, but now that it has been pushed back another month we are just continuing to prepare for the race season.
Honestly I have been putting it off a bit to actually be physically working on the cars because as we all know the weather has not been very motivational. We go up to the race shop a lot but lately it has turned into hanging out and doing tow calls.
But now that we are officially in March, it's getting closer to game time. The warm weather is slowly starting to come and the snow is disappearing. The transmissions are both out and won't be very hard to get done and back together. My engine that we hurt last season is not ready yet but we are all good with the spare staying in for a while longer. The biggest job we need to do right now is get the Nitrous system set up. I will spend some time next weekend focused on wiring that all together and that will turn into a YouTube video showing how we do it and what challenges we find along the way.
As for the rest of the fleet, we have some work to do on Vicki's dragster just touching up some things as well as mounting the new Jones Transmission Pump to control the transmission temperature during the race day. There are some tires that will also need to be mounted. And on a completely separate topic, I always tell myself I am going to clean out the trailer but never actually end up changing much. So maybe this spring I will have a chance to mix up how the trailer is organized to be more functional.
That pretty much sums up the work we need to do for the cars but as you all know, nothing ever ends up being as easy as it seams.
Thanks for reading and I will talk to you all again soon!
Brandon Barker
---