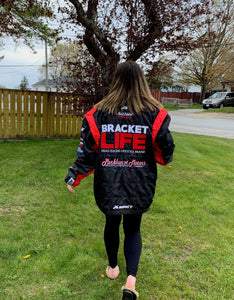 The Idea For BracketLife
Hello #BracketLifer's and welcome to this week's blog post! It's Rachel here - and this week I thought I'd share a little bit more about why we decided to start our own company, and how we came up with the idea for BracketLife! 
To give you a little background - ever since I was a little girl I've always wanted to be an entrepreneur. I grew up watching my parents run three very successful companies and I loved the idea of being my own boss. I watched both my mom and dad work extremely hard to build their companies into what they are today – and I was always reminded of what their hard work was providing me in my life – including the opportunity to bracket race.
For Brandon, he grew up in a very similar situation to me – watching his Grandpa run a very successful transportation company – with his Great Grandpa, Grandma, Mom and Uncle also joining the company. It didn't take long for Brandon to see the hard work and dedication his family put into the company – and that it had afforded his family the flexibility to bracket race. 
To make a long story short – both Brandon and I found our passion for entrepreneurship through our families, and we both attended post-secondary institutions to study business – in hopes of owning our own businesses one day! What we didn't know at the time, was that we'd end up starting our first company with each other as business partners. 
After I graduated university last year and moved in with Brandon, we instantly started brainstorming ideas to start a company. It was always a conversation that came up at the end of a long, hard work week – and just happened naturally for us! We envisioned an online company to allow us the flexibility of working from anywhere in the world, and in an industry that we were both passionate about – naturally that happened to be bracket racing. Once we chose the format and industry, then we began brainstorming what we wanted to offer. 
On a random Monday at lunch, I picked Brandon up for work and we were driving across town to pick up some lunch on our lunch break. I was day dreaming about buying new workout clothes and stressing about wedding planning all in the same breath. (If you know me - you know I always have five thousand things on my mind). Anyways … as soon we brought our food inside the house, I saw my wedding planner sitting on the kitchen table and I came up with the idea for our first BracketLife product (which actually won't be launching until later this year). It was the first out of a thousand ideas Brandon liked, and that night we officially made the decision to start BracketLife and pursue the product idea. 
A few weeks later, when we were deciding on what to name the company, we could not come up with ANYTHING! Every night, we would get home from work, and walk straight into our home office, trying to figure out the next step in developing the company. I was so annoyed that we still hadn't come up with the company name that one night I said to Brandon "we aren't leaving this office until we come up with a company name". To make a long story short - I wrote down every word I could think of that reminded me of drag racing, and was using thesaurus.com to come up with different synonyms to words I thought sounded cool! With no luck - I just randomly took two words off my notepad – which happened to be "bracket" and "life" – and said it out loud. Instantly, Brandon looked up at me and said, "that's the name of our company, BracketLife".  
One of the biggest reasons why we decided to start BracketLife was because we wanted to bring back the love for bracket racing. Over the past couple of years, we've seen countless drag strips close across Canada and seen car counts diminish at our local race tracks. Without local grass roots bracket racing – we have nothing. Nowhere to go racing every weekend, and nowhere for our future kids to race.  Grass roots bracket racing is where it all began for us and our hope is that we can bring awareness and excitement back to the sport.   
In addition, as a grass roots bracket racer myself, I have always struggled to find my spot in bracket racing. I have never been the best racer at the track, and haven't accomplished much success in the sport yet … except a few event wins in my junior dragster and MIP in Super Pro last year. For Brandon on the other hand – bracket racing has come much more naturally to him, and he's seen great success in the sport thus far. As two different bracket racers, with completely separate experiences, we wanted to create a community for bracket racers and bracket racing supporters to feel supported and encouraged in their journey's. 
No matter who you are, where you race, what kind of car you do or don't drive – you are welcome in our community! Everything we hope to do will be centered around celebrating your wins, encouraging you through your journey, and growing the sport of bracket racing. 
 We hope you are as excited as we are to see where the future of BracketLife takes us. Be sure to subscribe to our BracketLife Bulletin (email list) to be notified each time we publish a blog post. Next week you'll hear from Brandon as he shares a little bit more about his passion for grass roots and local bracket racing.
Catch you next-next week,
Rachel Ogilvie
---
7 comments