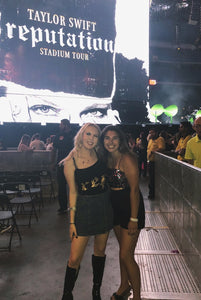 The Crazy Things We Do To Race
What is the craziest thing you've ever done to not miss a race? Hey BracketLifer's, it's Rachel, and this week I'm talking about some of the craziest things I've ever done to attend both an event and race in the same weekend! Have you ever wanted to do something on the weekend but also not miss a race? Because SAME!!
Here are just a few examples of some of the craziest things I've ever done:
5K Foam Fest: A few years ago, my cousin and I decided that we wanted to compete in the 5K Foam Fest run. It would be the first time I'd ever run a 5K and something I had always wanted to cross off my bucket list. But if you know anything about running events, they only schedule them on weekends. So, I had to get super creative, because I was not willing to miss the points race that was also scheduled for that weekend. In order to make it work, we had to run the 5K at 7 AM in the morning and drive up separately so I could book it outta there once we completed the run! But what I didn't think about was how muddy and soapy I would be by the end of the run!! I ended up missing the first time-trial but made it back in time for the second time-trial and eliminations. It was a crazy day filled with a ton of driving but was so worth it!
Taylor Swift Concert: If you know me then you know I am obsessed with Taylor Swift! I grew up listening to country music and she became very popular when I was a young girl! I had been to all of her concerts as a kid, so when she announced her Reputation Tour, I knew I HAD to go! But what I didn't plan for was that she'd come to Toronto the week of the Bracket Bonanza (our biggest race of the year)! I was crushed … because I honestly wasn't sure how I was going to pull it off! Toronto was 6 hours away from the racetrack so it wasn't going to be a short trip. So what did I do? I went ... of course! I ended up buying a ticket for my brother-in-law's girlfriend so we could make the 6-hour drive to the track together after the concert. The concert ended at 11 PM and we drove 4 hours to Brandon's house, slept for a few hours, and then woke back up at 5 AM to make the rest of the drive to Quebec. It was exhausting … but OMG the concert was incredible! It's on Netflix, you should watch it!
*These photos were about 24 hours apart .. exciting weekend for sure!
Luskville Banquet: When I was in university, I had to travel 6 hours to get home and 8 hours to get to the racetrack. So, when I went to university each year, I only came home three times a year: Christmas, reading week, and the Luskville Banquet. These three weeks/weekends were non-negotiable. But of course, every time I tried to come home for the banquet, exam season would get in the way! So, what did I do? I bought myself a student flight pass – so I could fly home for 24 hours to attend the event. This way, I would decrease my travel time from 8 hours to 1 hour and I could study on the plane. 
Cortnie's Wedding: This August, I am yet again faced with a crazy decision to make – my best friend's wedding or the Bracket Bonanza! Obviously, there is no way in the world I would miss my best friend's wedding, so of course I will be there! What's my plan? Well ... she's getting married on the Friday night! So while I stand beside Cortnie as a bridesmaid, Brandon (or someone in my family) will be racing my dragster entry in the $10K Big Dog Shootout race! Then, I'll wake up super early on Saturday morning and get myself to the track in time to race for Saturday & Sunday!
It's funny looking back on these stories and seeing the things we are willing to do to make it to the racetrack. There has been a million events, parties, concerts, and vacations that I've given up to go racing instead ... but sometimes it's nice to still live those 'non-racing' experiences! What are some of the craziest things you've ever done to attend an event and race in the same weekend?
Catch you next-next week,
Rachel Ogilvie
---