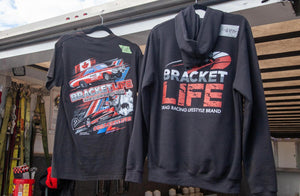 That's a Wrap
Hello and welcome back to our blog. It's Brandon here, writing our last blog post of 2020. As I am sure you all have seen the 'Year in Review' recap on Facebook, I thought it'd be fun to review the year we have had launching BracketLife on our blog instead.
Now, I know we have already discussed how we began the idea of BracketLife – starting with a planner, and then quickly shifting into selling apparel through an e-commerce website – so we are going to jump right to the official store launch in July. Up until this point, we were investing half of our paycheques into this new business idea and we had also just purchased our first Toterhome. We rolled into the racetrack for the first time with our own products on board, anxious and ready to sell!
Since our official launch on July 8th, we have sold hoodies, t-shirts, golf-shirts, hats, tank tops and toque's to friends, family, fans and many new customers. At first, there was no doubt in our minds that our in person sales at the track would be the best way to move products. What I personally did not expect was for our online store to take off as much as it did. Currently, our online sales make up approximately 45% of our revenue to this point and continues to grow daily.
One huge milestone for us was the addition of our first brand ambassador, Logan Watson. Logan is a drag racer from Georgia, USA, who shares the same values as we do and has become a large part of BracketLife Brand. He has been representing us south of the border this year – doing a great job I might add – and we are excited to keep that momentum going in 2021.
Another milestone for us was when we were approached by Luke Bogaki of ThisIsBracketRacing to become a sales partner. We will soon begin providing our customers with one free training from his "Elite" program and we have BracketLife products available to purchase as well at a discount for all program members.
In October, we finished off the racing season creating an event shirt for the Jim Parkhurst Memorial Weekend which was the first custom shirt we produced that was not strictly for BracketLife. It has opened up ideas and opportunities for the future which will share with you when we have more details put together!
As I sit here typing this, we are less than $400 away from a huge milestone. Rachel set a goal of hitting $20,000 in sales this year, and we truly didn't believe we'd come close to hitting it only 6 months into business (and because of the pandemic). This year has been an unbelievable rollercoaster that Rachel and I are very proud to be a part of, and we would like to thank each and everyone of you for the amazing support you have shown to us all this year. We hope to continue to bring you quality products and that you hang along for the ride as we see how far we can grow this little idea!
---