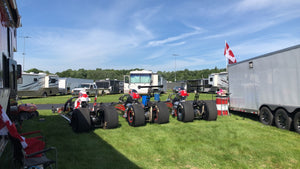 Surviving Big Money Races
Hey guys Brandon back again this week. For those of you in Ontario, Canada (like us), I'm sure you know by now that the current lockdown measures are yet again preventing us from heading to the race track anytime soon. So while Rachel and I continue to look for things to keep us busy for the rest of the month (& most of May) we've basically taken to watching all of the big money bracket races happening in the United States.
In Florida the SFG 500 (over four separate races paid out) $50,000, $100,000, another $100,000, and $500,000 to win. Texas had $40,000 and $25,000 races. North Carolina held a Footbrake race for $75,000 to win. These were only the largest and most notable events taking place last weekend and does not include the multiple other events held around the US.
I spent most of my time watching the SFG 500 personally. While watching, it felt like many racers were throwing darts at the wall and swinging for the fences in an attempt to make a perfect run – and a lot of them were coming very close. It was intimidating in all honesty to watch the skill level of those racers and the way they were executing on the track.
I needed to remind myself that I can compete at the highest level of our sport and have many times before. So I came up with a list of ways for how I try to "survive" and succeed at big money events. It doesn't matter if you're racing for $1,000 or $1,000,000 these strategies can be helpful at any event.
Preparation! I covered a lot of this in an earlier blog post I wrote about off season training. But when you put in the work to be prepared as best as possible – from hitting the practice tree or making sure your equipment is as good as it can be and in good working order – it takes a lot of stress off your shoulders on race day.
Rest! Depending on the car count for the different events they can start early in the morning and not finish until deep into the night. Make sure you have a good sleep and take time to relax throughout the day if you have time. This helps keep you sharp in the later rounds of the day so you don't get exhausted before the big rounds.
Stay fresh! One big thing I do that I feel makes a difference is I have mindless games on my phone that I will play in between rounds while sitting in the trailer just hanging out. I like to have alone time to make a game plan for the upcoming round but I do not want to overthink it. So once I set up a plan I will find a lawn chair and sit down to play candy crush until it is go time. The point is to keep your mind open and free of stress.
Go with your gut! This is probably the best advice I can give you. When you start getting into the later rounds of the race most of your buddies are already eliminated and are just hanging around. There is usually a lot more support at this time which is great! But don't let too many opinions into your head and change your system or strategy. You got yourself there and make sure the final decision you make is yours and not something you didn't believe in or were not comfortatble with. This way you have no one to blame if the winlight doesn't turn on! You have to be open to ideas and others might have valuable knowledge to share but make sure your final decision is yours!
Hopefully you gained something from these tips and it helped instill confidence in yourself and your racing program so you can see some success! Good luck this season!
Catch you next time, 
Brandon Barker
---