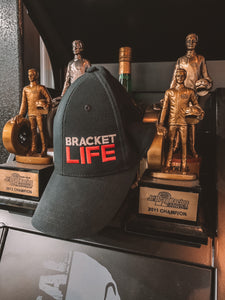 So the Season is Over. Now What?!
So, the season is over. Now what?! Well … we are kind of asking ourselves the same question right now. Any other year, we would be attending racing banquets and preparing for all of the Christmas festivities. Just like everyone in the world right now, this winter is going to look very different. BUT, one thing will continue to remain the same here at BracketLife Brand. We will not stop celebrating what it means to be a BracketLifer.  
Here's what you have to look forward to this winter from us:
New Apparel Items
We will continue to create and launch new apparel items to our shop throughout the winter months! We are overwhelmed with gratitude over how supportive and well-received our apparel items have been thus far, and will continue to launch products we love – in hopes that you also love them! Stay on the lookout – we have some toques and zip-up sweaters coming at you in the next few weeks – just in time for Christmas.
Race Track Schedules for the 2021 Season
Next season we want to be able to display (on our website) all Canadian Races from every Canadian race track! Our goal is to help Canadian tracks and promoters get the word out about their races, but also for Canadian racers to have one spot to go to look up races. *If you are a track owner or promoter – please reach out to us so we can make sure to share all of your events.
Celebrate Track Champions
This winter we hope to reach out to all of our Canadian Track Champions to congratulate you on your season, but also to hear directly from you what you did differently this year to win the championship, what your plans are for next season, etc. Stay tuned for more information on this – we do plan to publish these conversations/interviews.
We hope you are as excited as we are to continue along this journey with us! This off-season has nothing on us!
See you next-next week,
 Rachel Ogilvie
---