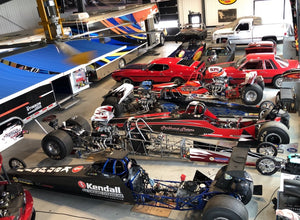 Season Recap x2
Hey BracketLifer's! It's Brandon back again for another week! Unfortunately this week I am writing about the off-season – it has finally come. But ... the best way to start this blog post, is to say that I am very thankful we even got to have a season this year and go racing.
My results from strictly a money/numbers standpoint did not measure up to the last couple of seasons, but that doesn't mean it was a failure. I went to 6 finals with 5 event wins. I accomplished my season goal of winning the Shannonville Drags Super Pro Points Championship. I was honoured to be awarded the Larry Tandy Driver of the Year Award. Rachel and I launched BracketLife Brand. We put on the 10thAnnual Jim Parkhurst Memorial Weekend which was a huge success. I finished in the top 10 at Luskville Dragway. And lastly, I lead Team Shannonville to Grand Bend for the Bracket Finals event.
On another note, we have already parked the dragsters and taken the engine out of Daniels to be freshened up this winter. The toterhome and trailer have also been cleaned. Now, I am trying to put together a list of upgrades I want to get done this winter, which means it is going to be a busy time for us. We will defintiely keep you all up to date with what we are up too!
Looking towards 2021 it is shaping up to be huge year. Luskville Dragway is re-surfacing their whole track with concrete which is where the 40thAnnual Bracket Bonanza will be held (with three $10,000 races). We will also be back competing in the Canadian Bracket Super Tour Series. We do plan on being able to compete at the Show Me the Money Tour races once again, as well as head south chasing more BIG cheques. And for those of you keeping track, Rachel and I will be getting married next year too so that is pretty cool.
What I am most excited about and what will make this winter not so painful is this right here. BracketLife Brand has no ceiling to how big Rachel and I can take this thing. We have big ideas and I can't wait to share them all with you.
Cheers, 
Brandon Barker
---
2 comments