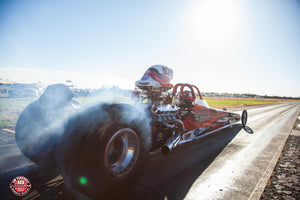 Season Recap
Hello BracketLifer's, and welcome to this week's blog post! I can't believe we've already reached the end of our racing season. It seems like yesterday that Brandon and I were standing in the garage, working to get the race cars ready. I can tell you this year was NOT what we had anticipated. As a newly engaged couple, we had purposely moved our wedding to 2021, so that we could take on a more aggressive racing schedule with bigger dollar races and longer drives. Turns out it was a good thing we weren't planning our wedding this year, because that wouldn't have happened either…
In case you haven't figured it out yet, Brandon and I practically live for bracket racing. I remember back in March, about two months away from opening weekend, the entire country went into lockdown. Neither of us thought COVID-19 was going to be as bad as it was, and we never expected it to impact our racing season like it did. It's crazy to be sitting here now, sharing that we actually did get to race this season. We may not have been able to attend all of the races we wanted to, but we definitely made it work on a reduced schedule, and we had a blast!
In a typical season, we spend about 20-25 weekends on the road competing at different race tracks across North America. This season, we spent 14 weekends at the track, and I'm pretty happy about that! I think without racing, and half of the world still shut down – we would have gone crazy without it! I'm so thankful for our local tracks and their relentless efforts to pivot and adapt to all of the changes on a day-to-day basis! It wasn't easy navigating the Quebec-Ontario border, social distancing restrictions, mask mandates, event attendance guidelines, and so many other rules we probably don't know about. I don't think any of us thought we were going to be racing this season – but we did – and our local tracks and race promoters deserve all the credit!
Even though we didn't get to travel down south this year, we are still pretty happy with our results! It wasn't the year for big-money races like we thought it would be, but I truly believe it was a blessing in disguise. The weekend we were supposed to be at the SFG $1.1 million, we bought our toterhome. One week later, we buckled down and launched BracketLife Brand – in the middle of the pandemic chaos. Which side note, we saw tremendous support from our racing family – so thank you for that! And last but not least, we got to try our hand at helping to promote the 10thAnnual Jim Parkhurst Memorial Race– which was a huge success.
Overall, you could say it was a pretty successful year for us. We were able to step outside of our comfort zone, make our biggest purchase ever, launch a business, and dip our toes into a different aspect of bracket racing. Here's to a great season. We can't wait to see what we will be able to accomplish on and off the track in 2021!
All photo credits: John Chambers Motorsports Photography
Catch you next-next week,
---
1 comment