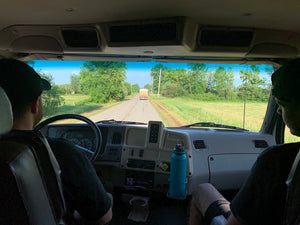 Roadtrip Adventures
Welcome back BracketLifer's! It's Rachel back this week to talk all things roadtrippin'. I don't know about you, but I don't live close to any drag strips (other than Shannonville), so I've become quite good with long drives. Anytime we want to go racing we are driving anywhere from 2 to 20 hours. Most weekends we are headed across the provincial border to race in Quebec, but we've also driven as far as Alabama, USA.
When I talk to any non-racer about making long drives to the racetrack, they just can't understand it. In their minds, the long drive just isn't worth the time or energy. All they see are the late nights driving home from the track, to many stops at the gas station, and not enough time to relax during the weekend. But us racers know that every bit of the drive is worth it! Over time, you know exactly where the best gas station coffee is, what bumpy roads to avoid, and where your favourite late night dinner restaurant is.
If your familiar with my family, then you probably know that I've been road tripping with my family since before I could even walk! Every year, we took 2 weeks off of school (and work) to travel to Florida as a family. We drove EVERY. SINGLE. TIME. People used to think we were crazy for not flying, but what I can tell you is that my sister and I loved every minute of the drive (for the most part). Over the years we mapped out where all of our favourite landmarks were, what states we drove through, where our favourite places to stop and grab food (or ice cream) were on the route. Luckily for us, when we started racing and travelling across North America to different racetracks – we were seasoned veterans.
Road tripping has largely been something I enjoy doing with my family. Through all of our adventures to car shows, vacation spots, and racetracks – we've learned to truly love the drive. Personally, for me, one of the best parts about travelling anywhere is the journey itself and not necessarily the destination. As much as the destination is incredible, fun and exciting – there is a lot to appreciate during the road trip itself.
Some of my favourite memories are from different road trips. I can vividly remember the roadtrip I took with my dad to New Hampshire to go racing and how we lived off Doritos chips the entire drive. I remember driving to Florida one year and we stopped at a gas station and I was so hungry I bought a slice of blue cheese pizza not realizing how terrible it really was – and trust me, it was DISGUSTING. I also remember driving home from the track a few years ago and with 45 minutes left in our drive there was a huge car accident, and we were dead-stopped on the highway until 4 AM – in which I had to show up to work the next morning.
 I could honestly talk forever about some of the crazy road trips I've taken throughout my lifetime. But one thing I do know is that road trips bring with it some of the best memories. No matter how tired you are at the end of it, how terrible the fast food or coffee was along the way – they can still be some of the best times!
I'm curious to hear some of your favourite memories from road trips that you've taken. Share below!
Catch you next-next week,
Rachel Ogilvie
---