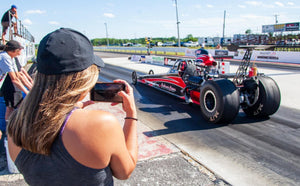 Recap of BracketLife Brand in 2021
We are BACK! It has been three weeks since we last wrote a blog post, and for us, that feels like a century! We loved having the last few weeks to truly relax and unwind after a busy year, but we are excited to be back at it! As we move into 2022, I thought it would only be fitting to recap all that we accomplished in 2021! So, let's take a trip down memory lane…
January – We launched our YouTube Channel and released our first video! Since then, we have released over 40 videos to our channel, including many interviews with Canadian drivers and weekend vlogs following Brandon and I along at the track every weekend!
February ­­– We launched our BracketLife Crewneck Sweater & Long Sleeve Shirt!
March – We added a 'Canadian Drag Racing' section to our Website which showcases all Canadian drag strips in the country and all their scheduled races. Stay tuned for the 2022 schedule, we should have it posted within the week!
March – We also launched our BracketLife Custom Fire Suits. You can purchase any brand of fire suit from us and we will work with you to customize it to your needs.
March – We added a new Brand Ambassador to our team – Mady Gill!
April – We launched our Piston Apparel Collection, which includes two new hoodies, two hats and a t-shirt!
May – We launched our first Drag Racing Log Book
June – We revealed Brandon & Daniel's BracketLife Brand dragster wraps and Mike's Kendall Oil Dragster wrap
July – We launched our BracketLife Brand Tumbler
July – ONE YEAR IN BUSINESS Milestone
August – Released our Brand Video on our YouTube Channel and Social Media pages.
September – We launched our Ankle Socks in three different colours: black, grey and white.
October – Not business related, but Brandon and I got married!!
November – We released 3 more colour variations of the Piston T-Shirt (White, Heather Grey & Black) and a Grey Piston Zip-Up Sweater
November – We became a dealer for Wild Willy Fuel Fragrances and Finish Line Motorsports Top Lube. We now offer 16 different fuel fragrances and one top lube product through our online shop! 
December – Attended the Performance Racing Industry Trade Show where we got to meet so many of you!
Well, that was 2021 in a nutshell! As I sit back and look at all the progress we made in 2021, it makes me even more excited for 2022! Our biggest focus was expanding our apparel and product offerings for our online shop, and I feel like we did a great job of that! We now offer over 50 products on our website, and there will be more to come for 2022!
This year, we are going to continue making huge strides in business through our apparel items, but our main priority will be to expand our social media platforms and improve our content! Although I'm not going to share exactly what our plans are for our platforms just yet, I can say that it will make a mark in the Canadian Bracket Racing scene for sure!
Catch you next-next week,
Rachel Barker
---