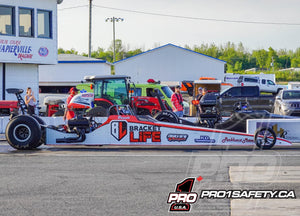 Race Season Goals for 2022
Hello and welcome back to the blog. Brandon this week again and I am wound up tight getting ready to go racing. The snow is gone, weather is getting warmer means we are closer and closer to race season. We are putting cars together, setting up our schedule, and working on everything BracketLife Brand.
With all of that going on, I wanted to make sure that I still set out goals for my own race program this season. Here's what I'll be focusing on:
Improve Focus – Changes in my life such as buying a motorhome, getting married, and general advances or challenges we all face growing up has altered my focus at the race track. During the race day I have not been as sharp with everything else on my mind. Over the winter I have been working on preparing myself to eliminate stress and clear my mind to be the best on the track that I can be.
Fill My Schedule – I love being at the race track and obviously want to go racing every chance I can. Going racing every weekend is not just simply showing up at the track. That means paying entry fees, fuel costs, parts failures among other things. To be at the race track for all the potential 23 weeks of racing in Canada means I need to turn on some win lights and make some money on the track.
Back in the Top 10 – Of course I want to win every race we stage up for. But unfortunately, I accept that won't happen. So, with the two points series I will be running this year, the Bracket Super Tour as well at the Luskville Dragway Points Championship, I am setting my goal to finish in the top 10 of the Super Tour, and top 5 at Luskville. I have consistently been able to have these results in the past and keeping up with my other goals should ensure success in this also.
Keep up on practice – Along with the discipline needed to succeed I want to carry that over into my race preparation. In previous blogs I have talked about my use of the practice tree to stay sharp and mentally prepared for being in the race car. Usually through the week when we are racing, I forget or put off practice, but I want to hold myself accountable all year long.
Enjoy going racing – Just have a good time at the race track enjoying the sport I love with all the people I want to be around.
We will look back and review my results at the end of the year to see if I was able to live up to the expectations. I hope in 9 months we look back at it and have accomplished everything on my list!
Catch you next time, 
Brandon Barker
---