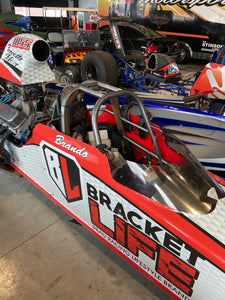 Preparing for 2022
Hello and welcome back to the BracketLife Blog with Brandon. It has been a crazy time getting ready to go racing, getting ready for the Motorama Car Show, and keeping up with everyday life. This week I want to talk about what else we have on the list to get done before we head to the track.
Obviously race cars need to be finished. My dragster is 80% finished right now. Transmission is back in, new rear end together, u-joints are back together. Waiting for axle bearings then I can set the valves and we will be ready to fire it up. The nitrous kit is coming along, I want to finish everything else first and be ready to go racing then I will focus more on finishing the kit.
Daniel's dragster needs the transmission put back in and it will be finished as well so nothing major going on for either one of the dragsters right now.
The Ogilvie dragsters will take a good day to have them all ready, but again nothing major to do now. Mike already has his together and ready to fire up. Vicki's dragster is going to get a brand new Jones Transmission Pump which will have a YouTube video made to show the process to get one set up and the benefits of having one. As for Rachel and Ashley, both of their dragsters will get a good look over and be ready to hit the track.
What I am looking forward to the most is getting our Toterhome out. Working on the dragsters all winter is great, but it isn't like there is a big change for a certain point to when we are going racing. But once we get the Toterhome and trailer out that means it is go time!
Other than that we have to prepare for the Motorama Car Show April 29-May 1 so if any of you want to check that out make sure to come by and see us. Also check out next week out BracketLife Broadcast with myself, Andrew Stirk, and Travis Ringguth talking about the differences between Bracket Racing and Super Class Racing. Thanks for coming back to the blog and we will be talking to you again in 2 weeks hopefully with some more progress towards going to the race track!
See you next time, 
Brandon Barker
---
1 comment