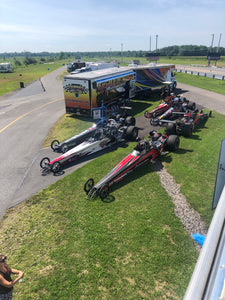 Our Must-Have Motorhome Items
Welcome back to another blog post! After taking a week away from the blog, I am back in full force and excited to say it is FINALLY opening weekend for us! This weekend we are headed to Luskville Dragway for our first race of 2021 and I couldn't be more excited! As I began packing the motorhome last week, I thought this weeks blog post would feature some of our favourite must-have items in the motorhome! There is rarely a weekend where we go without these five items:
Hamburgers: If you know us at all then you know how much Brandon enjoys hamburgers. His specialty breakfast includes a cheeseburger with lots of cheese, hash browns, bacon, peameal bacon and eggs – so there is rarely if ever a weekend that we don't have hamburgers in the motorhome!
Water Dispenser: If you don't have a water dispenser in your motorhome, you need one! Every weekend, we grab a water jug, stick it on top of the dispenser and drink up! The water is always cold, and you never have to worry about buying bottled water or ice for your cooler ever again. It's also better for the environment! Tip: If you do get a dispenser, make sure to keep it out of the sun (or else your water will not stay cold).
Practice Tree: This is probably the most obvious must-have, but something we absolutely never leave without. We always leave it sitting right on the table so that every time we sit down, we take a few quick hits on the tree! We also have it for days when we just can't seem to hit the tree and need a few practice shots to build our confidence level back up!
Fizz Sticks: In case you are new around here, we are obsessed with Arbonne Fizz Sticks and always have multiple boxes of fizz in all different flavours on hand. I carry them in my purse, my suitcase and of course – in the motorhome. Simply mix one of these sticks in a bottle of water and it'll help temporarily relieve fatigue, promote alertness and enhance your cognitive performance (which is exactly what we need at the track)! If you're ever looking to get your hands on one of these, let me know and I can hook you up! 
Board Games/ Deck of Cards: We never want to admit this, but there are many times where you are at the racetrack and it starts raining … One of our favourite activities to pass time when it's raining is to play a board or card game. We've been known to play a good game of Clue, Rummikub, or Euker for far too many hours at a time when it's raining. 
I'm curious to know what some of your must-have motorhome items are. Share with us below!
Catch you next-next week, 
Rachel Ogilvie
---