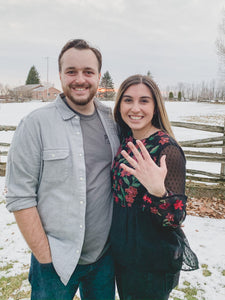 One Year Engaged!
Hey BracketLifer's, it's Rachel here! This week I'm getting personal with you guys and throwing it back to a year ago today. December 23rd, 2019 – the day Brandon proposed to me!
Looking back on last year at this time, man was it so different! COVID-19 wasn't even a word in our vocabulary yet, and making Christmas plans with friends and family was so much fun! Christmas is one of my favourite holidays and it's always a time where I get to see my extended family on my mom's side (who we really only see once a year) and throw big Christmas Eve parties. And don't even get my started on New Year's Eve parties – they are the best!
Anyways, every year between December 21st– January 4th(roughly), both Brandon and I's work shut down for the holidays. It's amazing, because it gives us both time to go visit all of our friends and family, while also getting our last-minute Christmas shopping done!
Last year, I was more excited than ever for Christmas Break because Brandon was finally coming home after 3 months of being at trade school. Luckily, when we first started dating we began long-distance, so this go-around was a piece of cake. Little did I know that when he came home from trade school, he was planning to propose to me!
It was super late on a Monday night and we decided to start watching a Christmas movie together. All day, I kept bugging him to open our Christmas gifts for each other, since we spend Christmas Eve and Christmas Day with our families. It wasn't like our gifts were really going to be that exciting, but I still felt like we should have opened them that day. I mean we both agreed to $100 limit so how big of a deal was it really…
As the movie was coming to an end, he went into the bedroom and came back out with his gift. It was this tiny, cute gift bag – and I was so confused. All I had asked for was some new socks, lol! THEN … all of a sudden, he got down on one knee, pulled out the ring from the gift bag and asked me to marry him.
All I could think to say was 'did you ask my dad?'. I was so shocked (and at first, I couldn't tell if he was joking). It took Brandon asking me about three more times before I realized he was definitely serious, and then said 'YES'. 
I wish I had these super cute photos and videos to show you from our proposal, but in reality – neither of us thought of that! We were both in our PJ's, cuddled on the couch and it was perfect.
The next night, we invited my family to Brandon's grandma's house for Christmas Eve and we made the announcement together. Luckily my dad knew we were going to make the announcement to everyone on Christmas Eve, so he made sure he was there with my mom and sister. But … do you think it was easy for my dad to convince my mom and sister to drive 2 hours away on Christmas Eve at 9:00 PM?! The answer is HELL NO.
Looking back now, it was so funny!! My mom went from being so mad at my dad for putting her in a car on Christmas Eve all night, to crying her eyes out that her first baby girl is getting married! It truly was one of the most exciting experiences, and something we will remember forever!
Catch you next-next week,
Rachel Ogilvie
---