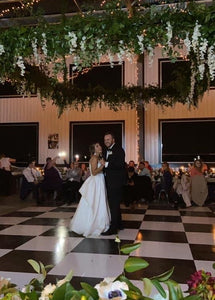 Officially Mr. and Mrs. Barker
Hey BracketLifer's – it's Rachel here! I'm excited to be back on the blog this week, sharing all the details from Brandon and I's wedding! A little over two weeks ago, we tied the knot and officially became Mr. and Mrs. Barker!
If you know anything about me, you know I'm obsessed with event planning. So, let's just say I had a little but too much fun planning our wedding. Every last detail was so important to me and it was truly such a special day for us.
When Brandon first proposed, we knew two things very early on. 1) That our wedding was going to be at my parent's race shop and 2) that it would be a Fall wedding. Brandon's family actually came up with the idea for us to get married at the shop and from that moment on it wasn't even a question, that was our venue. We also knew that no matter what, we were having a fall wedding because we didn't want it to interfere with racing.
In terms of the overall design of the wedding, I was the most excited for this aspect. Since we were having a fall wedding, I knew I wanted our wedding colours to be burgundy (for the bridesmaids) and black (for the groomsman). But, once I began shopping for my wedding dress, that's when my wedding vision came to life. I had initially planned for the wedding to have more of a fall, rustic feel to it but I ended up changing the entire design.
When I went wedding dress shopping, I actually had a hard time finding 'the dress'. Long story short, I actually worked with Sinder's Bridal House in Carleton Place, ON (the same place my mom bought her dress) to design a custom gown. I took the top, front, and back of three different dresses and transformed it into the wedding dress I wore. At the time, I was obsessed with Prince Harry and Meagan Markle's wedding, and the simplicity of the dress and my long train gave me the royal, elegant vibe I was looking for.
Now that I had my dress, I knew that I wanted an industrial, and elegant/ black-tie event. I instantly reached out to our wedding designer and coordinator, WEDECOR and explained my new design ideas. Overnight, they took exactly what I wanted and created our dream wedding. My must have's for our wedding included:
Wood tables with metal chairs to match the industrial vibe of the garage
A neon sign behind the head table that read 'The Barkers'
A black and white checkered dance floor in the centre of the room
A lot of flowers and greenery to fancy up the garage
Once the design was complete, then came my favourite details:
Custom cups and napkins (we forgot to take a picture of these) for the bar
Custom blankets for our outdoor ceremony (in case people got cold)
Newspaper style wedding programs for our ceremony
There were also many personal aspects to our wedding that were very special to Brandon and I:
My mom and dad gifted me with my grandma's pearl necklace to wear
Our wedding venue (my parent's shop) was built where the old schoolhouse used to be that my grandma went to school at

We also got ready at my parent's house (the bridesmaids) and my grandpa's house (the groomsman) – which are also both special locations for my family

Brandon's grandma gifted him his grandpa's wedding ring
Brandon's grandma gifted him with custom cufflinks in honour of his grandpa
My dad drove me to the wedding ceremony in his Chevy C-10 Truck that he finished during the pandemic
I could go on and on about how incredible our wedding was. It was truly the most perfect day and we will remember it for the rest of our lives. Here are a few sneak peeks from our special day. 
Wedding Vendors:
Hair: Mikaela Allore
Makeup: Stephanie Bullock Makeup
Photographer: Chelsea Mason Photography
Videographer: Peaking Zebra Productions
Transportation: Parkhurst Transportation & Healey's Transportation
Cake: Raindrop's Cupcakery 
DJ: Quality Entertainment
Decorator/ Florist/ Rentals/ Coordinator: WEDECOR (Michael Donovan)
Caterer: Waterfall Catering
Portable Bathrooms: Lavish Bathrooms
Catch you next-next week, 
Rachel Barker
---
3 comments