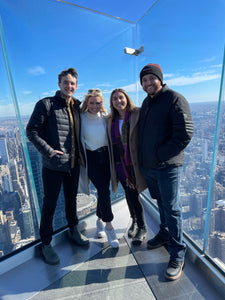 New York, New York
Hello and welcome back to the blog! This week it is Brandon back with you, and we just got back from New York City. For Family Day weekend here in Canada or Presidents Day in the United States, Rachel and I joined my brother Daniel, and his girlfriend Alyssa, for a trip to NYC.
Now this definitely was not a racing related trip so this wouldn't have been my first choice, but Rachel and Alyssa got my brother and I this trip for a Christmas gift that we could all do together so I figured we would make the best of it. For myself I was most excited for the food, more specifically the pizza and Italian cuisine.
After a bit of a flight delay, we took off from Toronto Friday afternoon and arrived in New York around 8 that night and after getting to our hotel the four of us hit the streets to experience the city. Our first stop was the Ellen Stardust Diner on Broadway. My mom had gone there before and had a great experience, so she recommended we try it out. Now I had heard stories about the Diner but had no idea what it was all about. Almost everyone on the staff there is an aspiring Broadway singer or dancer, and the purpose of the Diner is to showcase these performers and their skills to the world while they are working to pay the bills. So, for the entire time we were there it was live music from shows on Broadway being preformed by our wait staff and it was unbelievable the talent they had. It really was a great experience to see these people putting everything into the songs because you never know when opportunity can come up. Oh, and we ate the Yankee Doodle Burger which is served with Mac & Cheese on top of it which yes, was unreal.
Saturday, we hit the road and walked around the city and started out at the 9/11 Museum and if you ever get the chance to check that out, I highly recommend it. We were there for what felt like hours taking it all in. I was only 6 years old when it happened, and I have looked into a bit of what happened, and everyone knows the story of what happened but when you get to look at the timeline breakdown of that day it blew me away how the events happened and how the whole world had to react in such a short time. They have a memorial room for all those who passed away that day and inside that room is a room that plays an obituary for each individual where one of their friends or family shares a story about that person. It was a very moving experience for an event that changed the way we live.
Sunday was full of touring the heights of the city. We climbed to the top of "The Edge" at Hudson Yards which is an outdoor Skydeck 100 stories above New York City. It was a ridiculous view to see across the city from that vantage point. The scope of taking in the city and all that it is, was a really great experience. We followed up that really tall building with going to the top of another really tall building at the Rockefeller Center. Top of the Rock, although not as tall as The Edge standing only 70 stories above the city, sits in the middle of the city. Here we got to learn the history of the Rockefeller Center and the giant Christmas Tree it had its own great parts to it.
That Sunday night we all got to watch "Chicago" on Broadway, and I must tell you it was amazing. I love musical and shows like that and it really lived up to the hype for me. My favourite part is watching the performers to see who really is giving it their all and showing why they deserve to be there on the stage while so many others aspire to be there.
Monday was saved for Central Park and to prepare for our flight home. We toured around the park for awhile relaxing and taking it all in before Rachel and I hit up Dave & Busters for some arcade action before heading to the airport.
Overall, it was a great trip I'm glad we got to take and experience. Of course, I couldn't cover every single detail of what we did because then we would be here all day long. But we had a great trip, I have attached a few more food photos below for your viewing enjoyment.
Thank you guys for reading and keeping up with us all the time. I will talk to you guys in a couple of weeks!
See you next time, 
Brandon Barker
---
1 comment