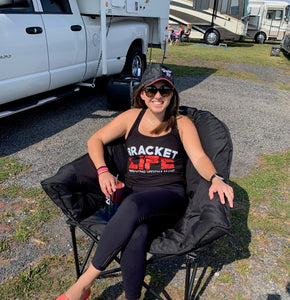 NEW! Women's Apparel Line
Hello #BracketLifer's, it's Rachel again! I know you were all hoping to hear from Brandon this week .. but I've got some exciting news for the ladies, and it couldn't wait until next week!
Our new Women's Apparel Line launches today!! This apparel line has been a dream of mine since the very beginning - before we even created BracketLife Brand! As a women myself, I've noticed that there are very few racing apparel items on the market for women – every racing shirt is either 'unisex' or 'mens'. Now I'm well aware that the majority or racers are men, but I'm also aware that there are a lot of women racers and women at the track, and we deserve cool racing apparel too! 
So let's take a look at our Women's Apparel Line: 
If you've seen me over the last couple of weeks, you've probably seen a sneak peek of these items! I have been wearing them around EVERYWHERE – out to dinner, date night, the race track – you get my point! All five apparel items are specifically designed to keep you cool and comfortable, all day long. 
Let's talk about the Ladies Camo Hat. This hat is super cute and feminine, with a unique black camo design and hot pink pinstripe on the tip of the beak. Even better, it has a Velcro adjustable option at the back, to fit it to your head and also to put your hair in a ponytail. 
The Black & Heather Grey Racerback Tanks are also a must! These tanks are perfectly fitted to your body, and feel very light when wearing them. They are awesome for hot and sunny day's at the track and even under your fire suit. I know I'll be wearing them every summer weekend at the track from now on!!
The Script Flowy Tank was designed specifically for the ladies who are looking for a bit more of a stylish and flowy tank at the track! Now, if you know me you know I'm such a girly girl – so having a stylish tank to wear at the race track was super important to me! I love the flowiness of the tank and how it hides my tummy (yep, I said it!) making this my favourite tank we offer! This tank fits true to size.
Last but not least, our Ladies Tee! This is by far my favourite product that we are launching, because it is SO soft and cozy. I don't even know what material makes this shirt so soft, but I love it! I even threw it in the washer to see if it stayed soft, and IT DID! This tee is slim fit and is a tighter fitting shirt for sure. TIP: If you want the shirt to fit tight, order true to size. However – if you are looking for an oversized fit, I would recommend sizing up 1-2 sizes. For transparency: I wear the size small for a tighter fit, and wear an XL to give an oversized look (only because I love oversized clothing so I can tie it in a knot at the bottom)!
Well.. I hope you enjoyed the inside scoop on our new Women's Apparel Line! Be sure to head over to the shop to grab your favourite items, and REMEMBER use code 'BUNDLE10' when you order 4 or more apparel items. 
Happy Shopping!
Rachel Ogilvie
---