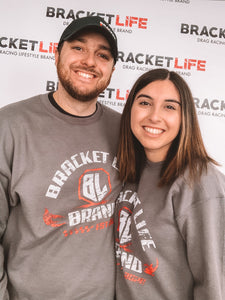 NEW! Distress Printed Crewneck & Long Sleeve
Hey BracketLifer's! Welcome back to another blog post written by yours truly –Rachel! This week I'm excited to talk all about our two new apparel pieces: a crewneck and long sleeve shirt. These pieces are both launching TODAY (if you are reading this in real time), and we are so excited for you guys to get your hands on them! 
When we first dreamt up what we wanted BracketLife Brand to be, I always had a dream of launching apparel items that didn't look like your typical race shirt. I wanted to create a brand of clothing that you could not only wear at the race track, but also outside of the race track. If you were going out for dinner, hanging out with some friends, or going out to pick something up at the store – you could throw on some BracketLife Brand apparel and go!
When I was a kid, whenever we used to travel as a family, if we saw a Harley Davidson store we had to stop and go in! My parents were both into motorcycles and would attend Bike Week in Daytona every year, so they loved all things Harley Davidson. Wearing Harley Davidson clothing was a way to identify with your crew of people, and it was easy for those around you to make the connection that you were into motorcycles. The idea of Harley Davidson and what they have been able to create in the motorcycle industry is something I've always admired. I think its absolutely genius and I wanted us drag racers to have a brand of clothing that would allow us to identify with our sport and our crew of people.
Now enters our crewneck and long sleeve shirt. When Brandon and I shared with our designer what we wanted to create with these new items, he nailed it on the head! The distressed print-like design that he created, encompassed exactly what we were looking for. It was the perfect blend of both racing and everyday style, mixed with quality and comfort. Not only do these two new pieces look cool, they are incredibly warm and cozy.
 Brandon and I have been wearing both of these items for the last two weeks and are in love! For transparency, they do both fit true to size. I wear a small in both, and Brandon wears X-Large in both. 
Well.. I hope you enjoyed the inside scoop on our new Women's Apparel Line! Be sure to head over to the shop to grab your favourite items, and REMEMBER use code 'BUNDLE10' when you order 4 or more apparel items. 
Happy Shopping, 
Rachel Ogilvie
---