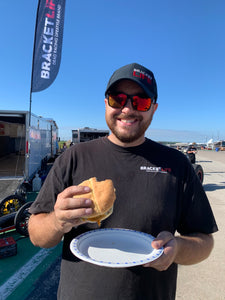 My Top 5 Favourite Race Track Meals
Hey there #BracketLifer's,
It's Brandon here, and welcome to what will be one of my favorite topics to ever write a blog post about: my top 5 FAVORITE racetrack meals. So, let's get started because I'm starving:
5. Walking Tacos– These are relatively new to me, since my mom just introduced them to me when she started coming with us in the toterhome this year. But already – they have made a big jump on my meal ratings. If you have had one of these tacos before then you might have an idea of what it is, but if you haven't yet – you are completely missing out and absolutely need to try these! So, what are they and how do you make them?! All you do is take a snack size bag of Doritos and cut the bag down the side, crunch up the Doritos inside (before you cut the bag) and add ground beef, chopped up tomatoes and lettuce, shredded cheese, sour cream and salsa. Then all you need is a fork and BOOM lunch in a bag – walking tacos – delicious.
4. Jalapeno Poppers– These are great for large groups and something different at the track but still fairly simple to cook. Cut the jalapenos in half, dig out all of the seeds (unless you're wild like that) and fill it with spicy cream cheese. Then to finish it off, wrap it up with uncooked bacon, put a toothpick through it to keep the bacon from falling off and throw it on the BBQ on low or until the bacon is done and ready to eat! PRO TIP:when cutting and removing seeds from jalapenos, wear gloves!
3. Steak– A classic and delicious way to end a race day. Personally, I enjoy a good sized (LARGE) ribeye, heavily seasoned, with steak spice done low and slow on the grill. I like to add some garlic roasted mini potatoes along with my mother-in-law's unreal Caesar salad – the salad truly tops off the whole meal.
2. Bacon Cheeseburger– If you keep up with our social media pages then you know I'm a huge fan of cheeseburgers in pretty well any fashion. On the same hand – cheeseburgers are also my lucky charm and I'll eat one to start any race day. None the less, my #2 favourite meal typically starts out with a burger from our local butcher shop (Bib's Meats Limited), seasoned with Keg steak spice, and has to be covered with a Black Diamond Marble cheese slice. Fire some crisped up bacon on top of that and proceed to watch win lights turn on in your lane.
1. Grandma's Breakfast Sandwich– This absolute monster will change the way you look at breakfast. It warrants the number one spot because first, grandma makes it with love, LOL. The layers of an original GBS (Grandma's Breakfast Sandwich), start at the bottom with a lightly toasted hamburger bun, a thick slice of Canadian (Peameal) Bacon, 3-4 slices of regular bacon, a slice of cheese, a nice and crispy hash brown, one over easy egg, topped off with chipotle aioli underneath the other half of the toasted hamburger bun.
So there you have it! These are my official top 5 favourite racetrack meals. If you see something you like, cook it up and send us some photos of your master meals!
If your mouth isn't watering by the time you finish reading this, I don't know what to tell you … because I need a snack. I'll be back on the blog to chat again real soon!
See you next time, 
Brandon Barker
---
3 comments