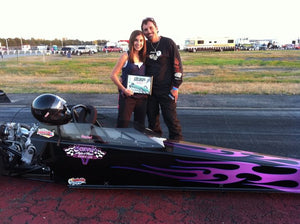 My Top 5 Favourite Canadian Drag Strips
Hello #BracketLifer's and welcome to this week's blog post! It's Rachel here, and this month, Brandon and I will be sharing more about some of our favourite racing experiences thus far. More specifically, this week I'm sharing my top five favourite Canadian drag strips! And since we can't cross the border right now, this is a great time to shed some light on our Canadian tracks.
Check out the list of my favourite Canadian drag strips:
5. Shannonville Motorsports Park (SMP):
SMP is located in Shannonville, ON (just between Kingston and Belleville, ON) and has made my top five for a few reasons. SMP was the first race track I ever raced at when I started racing in juniors. It was always the first race of the season in our inter-track series between SMP and Luskville Dragway and I love going there. As a junior driver – we made some of our best memories here. For example, there was a big playground where all us kids hungout after the race day. We also always had the coolest junior banquets at the end of the season, all thanks to Sherry (my future mother-in-law!!) and her incredible event planning/decorating skills. The drag strip return road was also part of the drift track and it made for some fun trips back to the pits (until you ran out of gas, LOL). BUT most importantly, SMP was where I got my first win, and for that reason alone, it will always hold a special place in my heart.
Although I haven't raced here much over the past few years, I still get to travel to SMP every month with Brandon and his family to watch him and his brother compete. Everyone is one big family here and I LOVE getting to spend time with the people there. On October 9-11, 2020, we will be back here for the 10thAnnual Jim Parkhurst Memorial Weekend. It will be my first race here in two years, and EXTRA special as we celebrate Jim's life (Brandon's grandpa) and his love for drag racing. Hope to see you there!
4. Elliot Lake Airport (North Shore Challenge)
Elliot Lake Airport is located in Elliot Lake, ON (between Sudbury and Sault Ste. Marie) and is one of the original northern races my family and I started attending ten years ago. Like the name explains, it is an airport – and for one weekend a year – they convert it into a drag strip for us to race at. It is an 8-hour drive for us, but hands down, is one of the best races we attend every year. One of my favourite parts about Elliot Lake is the spectators. We meet hundreds of people from the town of Elliot Lake and surrounding areas every year as this is a big event in their town! There are tons of food trucks, bouncy castles, live bands, a beer tent, and so much to do at the track once the race is over that it always makes for a great time!
3. Wawa Airport (Northern Nationals)
The Wawa Airport is located well ... you guessed it, in Wawa, ON (between Sault St. Marie and Thunder Bay), and this is a race you don't want to miss. Yes – it may be a 14-hour drive for us – but it is absolutely worth it! The town of Wawa is much like Elliot Lake – extremely friendly and welcoming – but it is about ¼ of the size. This makes Wawa and even tighter knit community, and everyone comes out to this event! Once a year, just like Elliot Lake, they close down the helicopter airport and convert it into a dragstrip for us to race. After the race is over, you can walk right into the town of Wawa (or take the shuttle bus), enjoy dinner at the Wawa Motor Inn or head over to the community center where they have live music and drinks. It is such a cool experience getting to travel into the small town. Over the years, we've made some pretty incredible memories – including taking our golf-cart through the Tim Horton's drive-thru (LOL!) and taking a helicopter ride over Lake Superior and Wawa Lake. If you ever make the trip up to Wawa, as soon as you see the Big Goose, you'll know you've arrived!
2. ICAR (Super Tour Series)
Located in Mirabel, QC (just outside of Montreal), ICAR is a track we visit multiple times throughout the season. If you follow us on social media, then you've seen me talk about ICAR and how aesthetically pleasing it is. This track used to be an airport as well, however, half of the facility has been permanently converted into a race track. At night, the entire track is lit up in blue lights, to ensure we are visible to the incoming airplanes that are landing, but it looks so cool! I love this track not only for how beautiful it is, but also because it is home to some of our Super Tour Series races. The Super Tour offers a strong and competitive points program and big race day payouts! BUT the best part – there is always delicious BACON cooking on the grill at the end of a long day. Let's just say, the Montreal racers know how to have a good time!
1. Luskville Dragway (LD)
Last but not least, LD! LD is located in Luskville, QC (just outside of Gatineau), and my home away from home! It is my home track, and where my family and I compete 90% of the time. Not only do they host some pretty awesome races, but the community here is second-to-none. I talk a lot about the people and our racing community – however, our LD community is truly at the center of it all! We race together, travel together, and spend all of our spare time together. The northern races and Super Tour races we attend, are in large part due to Arnie Malcolm's support (LD's track owner/promoter). He has introduced us to some of the best bracket racing in Canada, and dedicates his life to the sport for us. If you have ever raced at LD before, then you know that the racers are some of the best around and it is no easy task to get to the winner's circle. We always say "If you can win in LD, then you can win anywhere across North America", and I completely agree! The competition is never easy here, and it has made me into such a better racer because of it. This weekend, we will be back at Luskville for the Fall Bracket Event!
Photo Credits: John Chambers Motorsports Photography
Well there you have it – my top 5 Canadian drag strips. And with this year being completely flipped upside down due to COVID-19, I am so thankful for Canadian race tracks. Although American races can offer a lot of big money, it'll never compare to some of the Canadian experiences we have at our race tracks. These are only five of MANY race tracks that help keep the sport alive in Canada. Let's hear what your 5 favourite Canadian race tracks are!
Catch you next-next week,
Rachel Ogilvie
---
7 comments