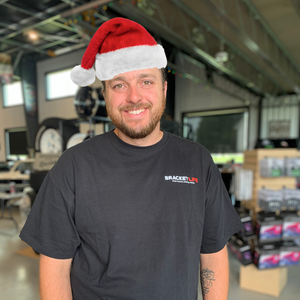 My Racing Christmas List
Hey everyone and welcome back to the blog! As usual Rachel and I have been burning up and down the highway. Last weekend we got the dragsters parked for the winter along with the motorhome and trailer getting parked. We also attended the Luskville Dragway Banquet of Champions in Ottawa, which even though it has only been a month since we have seen all our racing friends, it is still always fun to see everyone.
While we were putting all the cars away of course the conversation comes up about what our plans are for next year, what upgrades we want to do and new ideas and ways to improve the cars for next season. This, along with the upcoming Black Friday Sales coming up have inspired me to start working on my Christmas list.
I am sure I will have to update this list as we go but here is what I have so far:
The Blower Shop TBS 250 – The "Mini Blower" has become one of the simplest ways to make big horsepower for the most affordable price. I am not 100% sure which engine I would put the blower on yet, it would be either the spare engine in my car or the engine in Daniel's but either way it would be in my dragster for sure. Blowers have always been my favorite power adder on a race car hands down because of the powerful sound and they look wild.
Portatree Eliminator Next Gen & Portatree Mini – I really need a new practice tree. Right now, I have borrowed (stole) Mike and Vicki's since mine stopped working. Mine was great for around 10 years before it bit the bullet, and it really is time for a new one. As for the mini tree, I already have two full size race trees here that I could hook the practice tree up to, but they are very bright to use in the house or if you are too close then they will blind you. The mini tree is a fantastic way to meet in the middle and is really cool to use with friends.
A Door Car – Most of the people around me have already heard this a million times and I am sure I sound like a broken record, but I really want a door car. I would not be picky at all when it comes to what to drive. I have and will drive everything I am able to but I also would love to own one myself. A pick-up truck would be a great tool and a lot of fun, but I think I would like something small like a Vega or a Monza. Or a slick looking roadster would be a weapon I would really enjoy. Once again, I have never been called picky when it comes to driving race cars but waiting for the right deal to come up will drive me crazy.
Nitrous Express Assassin's Plate – Nitrous is a great tool to use in bracket racing to change the look of a race or to make up for a mistake you may have made. No doubt I would make a ton of mistakes when learning to race while using Nitrous effectively but once I got it sorted out it is just one more tool I can use on the race track.
Entry Fees – Last but not least, if someone is looking for a Christmas gift for me and does not see anything on this list they think works for them, I can always use entry fee money.
In all seriousness we have a lot of opportunities coming up this winter and who knows what on this list may or may not show up at our house!
Thanks for keeping up with us every week and for your continued support. I will see you back here in a couple of weeks!
 Brandon Barker
---
1 comment