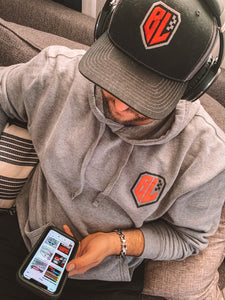 My Favourite Drag Racing Podcasts
Hey guys Brandon back again this week. I want to share some of my favourite racing podcasts that I have found so far with you.
Rachel and I spend a lot of time on the road, both together and on our own. A lot of the time we talk about new ideas or plans that we have and things we need to work on, but when we drive alone, we both enjoy listening to our favourite podcasts for inspiration, news, or just to feel like someone is talking to us on the drive to keep it exciting.
Rachel is more into the business and motivational podcasts such as Andy Frisella's REAL AF (formerly known as the MFCEO Project), and Rachel Hollis' podcast. Me on the other hand, I usually listen to all the latest drag racing podcasts I can find. Here are some of my favorites that you can check out.
The Sportsman Drag Racing Podcast with Luke & Jed – Arguably the number 1 pick on any drag racers list for best podcast out there. Hosted by two legends in the sport that are always up to date and up to speed on at least 90% of big news and events in the drag racing. Luke Bogacki spent years "racing for a living" and Jared Pennington changed the way track announcers worked events. They have raced coast to coast from the bottom to the top of the USA and have seen a whole lot of racing. Their experience and knowledge of the sport shows a different perspective on the sport. My favorite episodes are when Luke and Jed talk the business of drag racing and everything that goes on behind the scenes to make the machine go around.
The DragChamp Show – A great listen with a different look a little more relatable to the younger audience. Gary Don Free, Ryan Gleghorn, and Jake Hodge all are present at almost every big money race going on today. Ryan and Jake both announce races and get a bird's eye view of the most prestigious events going as well as racing in these events as well. Gary is the creator of DragChamp which is an online magazine highlighting sportsman drag racing. They promote the sport in a fun light and share the experience of being a younger person grinding through life just trying to get to the next racetrack and loving the whole ride along the way.
Racers in Rental Cars – Top Sportsman racer Don O'Neal and NHRA Top Fuel Driver Cameron Ferre team up to talk the business of motorsports and focus on the industry as a whole. Everything from building your own brand to a survival kit for trade shows such as PRI or SEMA, Don and Cam have been there and done it, on both sides of the coin. Seeking out sponsorships and marketing partners or receiving multiple pitches and proposals for up and comers. Working in the big business of motorsports is a lot of time forgotten about when racing at the sportsman level but when building a brand like BracketLife it is great to have a resource like this for ideas and examples of what works and what does not from those who have succeeded and failed many times and are able to talk from their experiences of how you can be successful.
I will throw out and honorable mention to Dialed In with Jake and Zach, a podcast that is no longer around. They had me on one of their earlier shows in 2018 talking about Canadian Drag Racing.
Thanks guys for checking out the blog once again this week. Check out those podcasts I shared and let me know which ones you listen to and what some of your favourite episodes are. Also, if you listen any good racing podcasts, let me know. I'm always down for good podcasts I can listen to when we are headed to the race track!
See you next time,
Brandon Barker
---