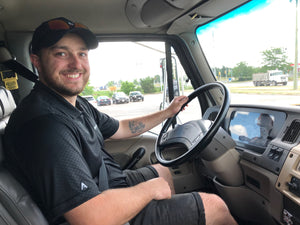 My 2021 Bucket List
Welcome back or welcome to the blog! Brandon back again this week to continue down the same path Rachel took last week looking at her "bucket list" for 2021. While we were brainstorming ideas within her topic it inspired me to think about what would be on my list for the upcoming year. Here's what I came up with:
Grow the BracketLife YouTube Channel: We have been working hard to figure out this whole YouTube thing. After releasing my first interview earlier this week it feels good to get that monkey off my back. Now moving forward, I will keep learning how to try and make the most out of the channel to grow the brand and spotlight Canadian drag racing.
Expand my personal brand: Since Rachel and I started working on BracketLife a year ago I really stopped working on my own Brandon Barker Racing brand. I have found difficulty in trying to build two separate brands at the same time, especially since both are very similar but very different. BBR will be where I work on pushing my own racing and will work on gaining sponsorship partners through.
Go to Texas Roadhouse: For anyone who has been to a Texas Roadhouse no doubt is on the same page here. Being North of the border, we miss out on a lot of trips into the United States and one of my Favourite things to do while in the South is dig into a gorgeous ribeye on our way to Cicero, NY.
Travel back to The Million: Rachel shared this as well last week and I had to duplicate it. For me going to The Million is not just about going to go. Travelling to Alabama and spending nearly $10,000 in entry fees/buybacks takes confidence and a plan. Going back for me would mean being back at the top of my game and having enough success all year long to kick off competing at the most prestigious event of the year.
Luskville Dragway Championship: Right now, with Shannonville not having any races on the schedule this will be the first year it is possible for me to attend every event for the Luskville Dragway Points Series. To this point in my young racing career, I have won a championship in all the major drag series local to me except for the Luskville Super Pro Championship. Much like Shannonville – I have grown up watching the champions from years past compete and to put my name on the championship trophy beside all the greats I have admired for years would be an honour.
I will hold onto this blog post and make sure to recap back at the end of the year to reflect on how 2021 turned out.
Thanks everyone for reading and if you have not already, go check out our YouTube channel.
See you next time,
Brandon Barker
---