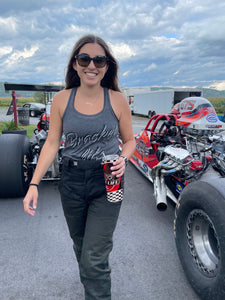 Must-Have Snacks For The Track
As I sit here writing this blog post, I now realize we are just 4 days away from our first drag race of the season! Over the last week, Brandon and I have been working hard to get the toterhome out of storage, cleaned up and repacked with all the blankets, toiletries, food and drinks we'll need this summer. Fortunately for me, Brandon takes care of everything except food! 
Over the last couple of years, I've gotten really good at finding quick, healthy and delicious food to take to the track. Since every member of our family races, there is not a dedicated 'cook' per say (unless Brandon's mom/Grandma comes). What typically ends up happening is that no-one actually cooks a meal – we just snack all day. Which is fine … until you start overeating on junk! Last year, we took snacking to the next level and turned to healthier alternatives. Here are some of my must have healthy snacks at the track:
1) Liberté Greek Yogurt & Berries
In the morning, it's always all hands on deck to get the cars warmed up and ready to go for race day. Instead of cooking a big breakfast, we've just learned to grab a quick bowl of yogurt + add raspberries or blackberries to it! This is a high protein and quick breakfast option that will satisfy your hunger in the morning.
2) Mid-Day Squares
Because everyone loves chocolate, so why not curb your sweet tooth with a healthy, functional chocolate bar. If you're not familiar with MDS, you need to be! They are a fairly new and BOOMING chocolate bar company that is based right here in Canada (Montreal, to be more specific). They have set the bar for me when it comes to enjoying a 'bar'. I 1000% prefer MDS over regular protein bars and/or granola bars. Go RUN to their website and use 'RACHELB15' at checkout for 15% off your order.
3) Hummus Crisps (Chips) made by Off The Eaten Path
These chips are SO delicious. They are made with real chickpeas and organic ingredients – and you would have no idea! We all know how delicious a good bag of chips is, especially at the racetrack. So next time you're craving a bag of chips, reach for these bad boys instead!
4) Turkey Bites made by Piller's
My family is always looking for easy ways to consume protein, and these are a great option for the track! Low in calories, carbs and fats, these turkey bites make a quick and filling snack! Mix a few of these with some crackers and cheese – now you're really set!
5) Apple Slices & PB
If you race with us, then you've probably seen us going crazy over apples and PB. Last year, when I was really trying to be cautious about what I ate (for our wedding) I started bringing apples to the track. I'd cut up an apple and put a spoonful of peanut butter with it. All of a sudden, everyone was reaching into my bowl to enjoy for themselves. So, we started bringing 3-4 apples and cutting up a bunch at a time to enjoy all together! It sounds so crazy, but they are such a refreshing snack and different from the typical fruit/veggie trays you get at the grocery store.
These are just a few of my favourite family-friendly, healthy snacks that I take to the track with us! Do you guys try to take healthy snacks to the track? Let me know your favourite snacks below!
Catch you next-next week,
Rachel Barker
---
1 comment