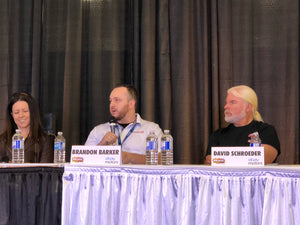 Motorama 2022
Hello and welcome back to the Blog. Brandon back with you this week to talk about our trip to the Motorama Car show where we had our BracketLife booth set up all weekend.
This was our first time setting up a booth for BracketLife anywhere except in our trailer at the race track, so it was a whole new experience.
It was at the Motorama Show 2 years ago in 2020 when we first launched BracketLife. We showed up with our first BracketLife golf shirt with a brand-new idea and company. I was scheduled to be on their drag racing panel, and we were planning to meet as many people as we could to share our new project.
Unfortunately, as everyone knows it did not go that way and the show was cancelled mid way through and all those plans quickly went away. So, when we got the chance to come back for another chance at Motorama with a booth, we had to go for it.
This year we got to do it up right. After weeks of planning, Rachel and I hit the road Thursday to set up. My mom, Sherry, met us that night for dinner to relax and refresh before a long few days. Friday morning the three of us hit the show early around 9 AM before the rush. Doors opened and we were in business ready to go. Most of Friday was filled with students, and we were trying our best to introduce them to drag racing. I was up on the racer zone stage with representatives from other types of racing, talking about how we can grow the sport. We closed the show at 9 PM and had a lovely dinner together to celebrate our first day.
Saturday morning our BracketLife crew added four more bodies. Mike, Vicki, Ashley and Nic arrived to help and support our cause. The drag racing night of champions was held mid afternoon which was great to finally be a part of and celebrate my championship in 2020 at Shannonville. We were joined later that night by my BracketLife Broadcast co-host Andrew Stirk for dinner and were also accompanied by my brother Daniel and his girlfriend, Alyssa.
Sunday, we started out with the full team there and I finally got to be part of the drag race panel with four other industry leaders to speak about the future of drag racing, where it is headed, and how much we all genuinely love drag racing. It got hectic at the end of the day as you could imagine when everyone was trying to load up and hit the road from the show. But with the entire BracketLife crew together we flew out of there and busted out in great time.
Something I want to close out with was what Mike had talked about during the show. In 1995, Mike and Vicki were at the Motorama show (the show had a different name) and they were set up in the main hall right beside my grandfather and Uncle. Being in the spring of '95 this took place before myself or Rachel were even born. It was a surreal time for Mike and for Rachel and I to be back at the show 27 years later with our own brand and booth.
I want to thank Mike, Vicki, Ashley, Nic, Daniel, Alyssa and my always supportive and encouraging mom, Sherry, for their help and support not just over the weekend but with everything Rachel and I do and whatever adventure or challenge we take on.
I will talk to all of you again soon, let's go racing!
See you next time, 
Brandon Barker 
---
1 comment