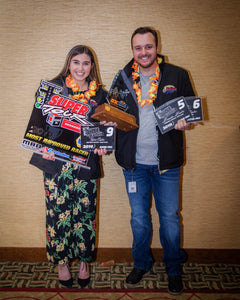 Did Someone Say MIP?
Hello #BracketLifer's, it's Rachel here! This week, I'm talking about my super pro experience over the last five years, and why winning the most-improved racer award last year in our Canadian Bracket Super Tour Series, was crucial for me at that point in my racing career.  
Now, I'm going to cut right to the chase here, because I don't really know how else to say it. When it comes to racing in super pro, I don't have a lot to be proud of. Winning most-improved racer really has been the highlight of my racing career. I've never won a championship, big-money race, or even a race for that matter. And it's not exactly easy to talk about.
As an athlete in any sport, the goal is always to win – and that is no different for us bracket racers. When I jumped in a junior for the first time, it was one of the greatest feelings I'd ever felt, and it was that much better jumping into a full-sized dragster! No matter how great of a racer I am, I love getting behind the wheel every weekend, and I love the sport. Although the last few years have not gone as well as I'd hoped – I've learned a hell of a lot about myself as a driver, my car, and the sport. When I won most-improved racer – for the first time in my career, I felt acknowledged in the sport. It was the first time in what felt like forever, that I got to be proud of myself in racing.
From 2018 to 2019, I moved up 22 spots in the Canadian Bracket Super Tour points series. I went from 31stplace in 2018, to 9thplace in 2019 – and I had NO IDEA! During the entire 2019 season, I had never looked at the points series. I didn't realize I had even made the top 10 until they called my name to present me with a plaque at our racing banquet. The next day after I got home from our banquet, I began to analyze my last four years behind the wheel in super pro. Instead of focusing on all of the negatives in my head, I changed my mindset to focus on the positives – and here's what I realized:
I was so focused on the fact that I hadn't won a race, I didn't even notice the improvements I was making as a driver.
I didn't focus on the small wins I was making throughout the season. It's important to focus on the small wins (consistent reaction times, round wins, beating a tough competitor, etc.), because without those small wins you'll never get the big wins.
Although winning races is important, it's not the only thing that is important and I should never take advantage of the race track. Making memories and building lasting friendships are just as important.
I need to continue to surround myself with people I look up too/aspire to be like, and pay attention to their race day routine, habits, successes and failures on track.
My first win will happen, ONLY if I keep racing and never quit.
Before winning most-improved racer, I was blinded by the idea that since I hadn't won a race, I wasn't a good racer and I didn't deserve to continue racing every weekend. This award gave me the confidence to continue to show up on the track, and reflect on how I can continue to improve as a driver. As cliché as it sounds, I know my time in the winner's circle will come. But what I've learned over the last five years is that the journey to the winner's circle is actually more important. When I get my first win – I'll know I've earned it.
Catch you next-next week,
Rachel Ogilvie
---
2 comments