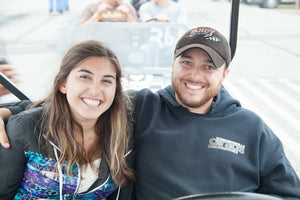 Memories from Elliot Lake
It's Tuesday night, and I just found out that one of my favourite races of the year has been cancelled… the North Shore Challenge Drag Race in Elliot Lake, ON. I'm pretty bummed about this, because I love everything about the races up there. The drive, the community, the racers, the spectators – all of it. 
What's special about this race is that the town of Elliot Lake hosts it, and they don't just host the event – it IS the best event of the year! Not only do we get to drag race, but they also have other types of entertainment such as a car show, heavy weightlifting competition, bouncy castles for the kids, food trucks, a beer tent and even a live concert on Saturday night.
Having not been to Elliot Lake in what will be two years now, I thought I'd share some of my favourite memories over the last 11 years.
It's so crazy how time flies! And with this pandemic slowly coming to an end, we will gear up for Elliot Lake in 2022.
Have you been to the Elliot Lake Drag Races before? If so, I'd love to hear what some of your favourite memories were. Share them below in the comments.
Catch you next-next week,
Rachel Ogilvie
---
1 comment