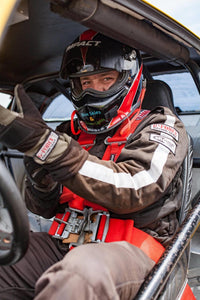 Meet Brandon!
Hey there #BracketLifer's! 
It's Brandon here! As Rachel mentioned last week, we are so excited to be on this business journey together. Now that you've officially been introduced to my fiancé, it's time to share a quick introduction about myself and my bracket racing journey! 
When I was six-months old, I went to the drag strip for the first time. I spent majority of my summer weekends at the race track, with my grandparents and uncle, and quickly became hooked on the sport.
On my 6th birthday, I was gifted my first junior dragster by my grandpa. At that time … you were not allowed to drive a junior dragster until you were 8 years old. Needless to say, my grandpa was very convincing, and I was '8 years old' for three years – racing all across Ontario and Quebec. 
It took me four years to win my first race, which also resulted in my first track championship that year. After 10 years in juniors, I graduated from the division with 6 track championships at Shannonville Motorsports Park, and countless event wins from multiple tracks across Ontario, Quebec, and New York State.
When I turned 16 years old, I moved into the Super Pro division. Eight years later, I have continued to race in the Super Pro division and have had a great journey thus far. Some of my most recent accomplishments from 2018 & 2019 have included winning multiple $5k-$10k event races, winning 15 races out of the 20 final rounds I've competed in, and earning 3 points championships (Show Me the Money Tour, Canadian Bracket Super Tour, and Triple Crown Series). Landing a future trophy wife is on the top of my list, LOL! 
On another note, I am so grateful to have grown up at the race track. Throughout my lifetime, I have been privileged enough to meet some of the most amazing people, and have created some unbelievable memories. From racing trips to Northern Ontario, or down south to Alabama, and almost everywhere in between – the memories and adventures I've had with friends and family have helped shape me into who I am today. I'll save my wild racing trips and experiences for another blog post.
Thanks for reading about my journey, and I hope you are as excited as I am to see where BracketLife will take us in the future. And if you haven't already, I'd love for you to share your story about how bracket racing has shaped and/or impacted your life. Direct message us on social media (@bracketlifebrand) or send us an email! We want to share your story with the world!  
See you next time, 
Brandon Barker
---
4 comments