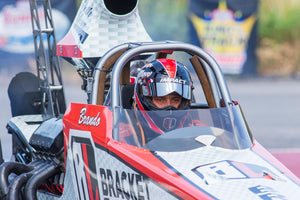 Is There More to Life Than Drag Racing?
For others, obviously the answer is yes of course. For myself, not so much. Welcome back to the blog, It's Brandon this week and we are going to get a little heavier into what drag racing means to me.
I've been told before "there is more to life than just drag racing" and after hearing it a few times over now I have sat to think about what that really means for me and if there really is. I played sports, mainly hockey and baseball, while growing up. I took guitar and piano lessons and even tried playing the drums for a little bit. Out of high school I went to university to take Engineering in Oshawa and looked at options to move to the Toronto area. I always liked the idea of going camping to hangout all weekend at a cottage or something like that.
It was fine and dandy and those are all fun things to do, but I will and have left all of that to go racing. Going racing to me now is almost an addiction. It is all that I think about through the week. Nearly everything I do day to day has some form of impact on getting to the track again. Examples would be working to pay for racing, starting BracketLife to be more involved in the drag racing industry, selling my tickets to see Metallica to go to Elliot Lake, letting Rachel go to one of her best friends wedding alone (her parents went too), working late into the night on the dragsters, motorhome, and trailer so I am prepared to hit the road as soon as possible when the next weekend comes up.
I am constantly chasing the need to be the best in my sport. I want to improve every chance I get and work to have the highest level of success I can possibly reach. No matter what weekend, event, or opponent I always want to win every single round. Going to the race track my entire life and being a racer for 19 years now I still get wound up and excited when we pull into the track. I still dream about driving race cars and turning on big win lights at the biggest events in racing.
On the few weekends throughout the summer Rachel and I are home for I often wonder what everyone else does for entertainment. Golfing, fishing, camping, relaxing by the pool, having a BBQ are some ideas that come to mind right away. And I would pass on every single one of those activities to go to the race track.
Reading back through this you can call it an obsession, but there is nothing else in the world I am more passionate about than being the best drag racer. At the end of it all I might not be the absolute best, but there will never be a moment when I look back and say I didn't give it everything I had.
So to others, absolutely, there are millions and millions of things to do in life. But not for me.
Catch you next time, 
Brandon Barker
---
2 comments