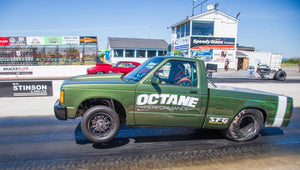 In The Groove Again
Hey guys, Brandon back here for the blog this week and I want to share an update on how our first few weekends racing have gone.
If you have been keeping up to speed with our social media, I have been out 3 times so far, once to Napierville and twice to Luskville. I wrote my blog about opening weekend at Luskville and how nice it was to finally be back. The results did not come up quite how we wanted but I had a blast!
The following weekend Rachel was busy with a bridal shower to attend so I loaded up with my grandma and hit the road to Napierville. I was able to start putting together some great runs and felt comfortable driving the car again. I went 6 rounds Saturday and Sunday which obviously felt great to start seeing better results again. Plus sitting around the fire having Smores Saturday night and drinking Margaritas with family and friends was just what I needed!
Now this past weekend we were back to Luskville and I was driving both dragsters. Daniel spent a week in Alberta and was not able to make it back for the event which meant I was pulling double duty. I had gotten a second entry and drove his car along with mine, which I have done many times before. When I was rolling both dragsters Saturday, I was all over it. I ran both cars right through to round 5 where I had to race myself which led to a bye run into the finals. Brian Acker would be the winner of the day after wearing me out in the final round in a close race!
Sunday was a wild ride. I was offered to drive the ADM S-10 truck. I have always loved door cars and wanted to drive one plus, this truck is badass. So, I parked Daniel's dragster and gave it my best shot with my dragster and the truck. The day started out rough as I was trying to get a handle on trying something different than what I was used to. Eventually I got in the groove with the truck, but unfortunately this meant I did not find much luck in my dragster losing both first and second round. I rolled through to round 4 in the truck where I made a miss judgement on setting up my dial in. But it was so cool to drive the truck and do wheelie's.
This weekend we are taking time off the track to wrap some more dragsters and catch up on some sleep. We have some big plans coming up so as always keep checking in for all our updates and we will be talking to you all again soon!
See you next time, 
Brandon Barker
---