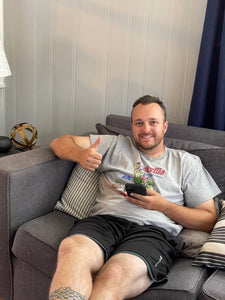 I Hate House Work
Hey guys, welcome back to the blog. It's Brandon hanging out with you this week again and I know this might not come as a shock to everyone but, I hate doing house work.
It's Monday of the long weekend as I am writing this. I was at the race track Thursday night and Rachel had a wedding Friday so she didn't get to the track until midnight Friday. Daniel, Ashley and myself were in the Big Dog Shootout Friday where I lost round 5. Then Saturday morning we were fresh to get back at it again and then I was able to find some momentum and carry it through to round 8 with 3 cars left.
Sunday was a wash out with 80% expected rain and although it was not as torrential of a downpour as predicted it was enough to call off the race which will be made up at the Fall Bracket Nationals at the end of this month.
Now onto the house work. Seeing as we are a Drag Racing Lifestyle Brand it is only fitting I talk to you about the whole lifestyle. Rachel and I have been on the road nearly every weekend for the last 3-4 months racing, working on cars, wedding planning, and a million other things it seems. So we get home last night from the track and have a relaxing evening catching up on some Netflix shows (we are watching the second season of Outer Banks right now and it is unreal). So I was thinking we would have a nice easy day hanging out for the long weekend but that is not how Monday went. Even though it seems like we are never home does not mean that our house doesn't get dirty and covered in dust. Throughout the week is always hectic, even just trying to keep up with the dishes (we don't have a dishwasher...). Instead of being able to hangout on weekends and do all of the house keeping we are always in our second house (the motorhome). So of course when you finally take the time to clean the house and go over everything it is a much larger mess than if you were able to keep up with it. I reminded myself this morning though how much I dislike the vacuum cleaner and why Rachel doesn't let me dust the house.
All in all it wasn't THAT bad, but I still hate house work. Now as long as I can keep going racing I can push it off again for a few weeks before getting all of the cleaning supplies back out, haha.
Catch you next time, 
Brandon Barker
---