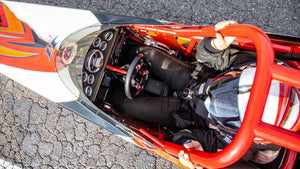 How I Improved My On-Track Performance
Hello #BracketLifer's, it's Rachel here! Right now, I am sitting in the car trailer, sippin' on a cinnamon and orange flavoured tea, watching the boys (Brandon & his brother, Daniel) race today at Napierville Dragway! It's not often that I'm at the race track without my car, and although I wish I was racing this weekend, I've spent a lot of time reflecting on the season and what I have done to help improve my on-track performance.
As I shared with you all two weeks ago, winning most-improved racer last season encouraged me to reflect on my on-track performance a lot more than I ever had before. Since then, I have spent a lot of time trying to figure out tangible steps that I can take to continue to improve. Here are five things that I believe have worked well for me this season and helped me improve my on-track performance.
1) Practice Tree
In my second and third year racing in super pro, I started to get really frustrated with my performance behind the wheel. I wasn't going as many rounds as I had wanted to, and I couldn't understand why. When I finally decided to ditch the excuses, I sat down with my log book and decided to categorize my loses into three categories: reaction time, finish line, or dial-in. Was I losing because I missed the tree, drove the finish line poorly, or inaccurately dialed my car? Well … what I realized was that, 80-90% of my round loses came from bad reaction times.
 So, at the end of the season last year, I made the decision to start making 15 practice tree hits every single night after work. Not only did I make these hits, but I also recorded every reaction time to calculate the average and spread. I wanted to be able to see if I was improving at all … and over time I did finally start to see an improvement. When the season started back up this year, I saw a huge difference in my reaction times, and am now focused on tightening up my spread.
 2) Reaction Time With ___ Delay
As I mentioned above, a big focus of improvement for me is my reaction times. The practice tree was great at helping me improve my lights, but I also wanted to see consistent reaction times throughout the course of the day. For the longest time, I would hit the tree really good in time trials, but as soon as first round came along I would miss it. Every round after that just went more downhill. I was always so nervous to adjust my delay box in fear that I would 'go red', when in reality I was never even close to going red.
What I started to record in my log book this year, was what my reaction time would be with X delay in my delay box. For example, I typically have 1.115 in my delay box. Over the course of the day, as I adjust the numbers in my box – I would record my actual reaction time, and my reaction time with 1.115 (in my delay box) every time. This way I could tell what my reaction time would have been, had I not changed my delay box. Sometimes my reaction time would have been better, and sometimes it would have been worse – but at least I had a base to go off of. For someone who overthinks everything, this helped me gain more confidence in hitting the tree, and allowed me to get more comfortable in adjusting the delay.
3) Reflection Questions
One thing I always hated about log books, was that there wasn't a big enough 'notes section' for me to talk about my runs. On days when I was having trouble staying focused in the car, the sun was shining on the tree or my car was having problems – I didn't have anywhere to make a note of that for future reference. When I would go back to reflect on my runs from the weekend, I couldn't remember what was going through my mind that run or why I felt like I didn't perform well. All I had was the data, the same thing my time tickets gave me. In an attempt to better document each run and allow myself to reflect on my performance, this season, I decided to ask myself the following questions (and record the answers in an old notebook):
What was one thing you did well today?
What was one thing you didn't do so well today?
What would you like to improve for the next race?
Pick your best time slip of the weekend. Why was this your best time slip?
Asking myself these questions after each race weekend, allowed me to go back to my logbook and reflect on my performance – using both data and notes directly from that run/race day. Were my reaction times more consistent? Did I dial the car well? Can I do better at the finish line next time? Getting a chance to sit with these questions and have a conversation with myself about what I did well/ not so well allowed me to accurately review my weekend performance and set goals for future races.
 4) Recording My Win/Lose Record
For someone who is very hard on myself, I never feel like I am improving fast enough or doing well on the track. One thing I started doing this year to build confidence in myself, is record my win-lose (round) record. A lot of the time, we think as racers that if we don't win the overall race that we aren't any good. But the reality is, we actually can still win quite a few rounds in a day. On an average day, if you win first and second round, but lose third round, your record is still 2-1. Or let's say you make it to round 7 with a buyback in first round, your record is still 5-2.
Giving myself the ability to acknowledge my round wins, helped me build confidence in myself that I could go out and win more rounds in a row. It helps me reflect on days when I feel defeated and ready to give up because 'I can't ever win'. Ultimately it has helped me get out of the negative self-talk I find myself in far too frequently at the track.
 5) Scale of 1-5 (Reaction Time, Strategy, Finish Line)
In addition to writing out and answering my reflection questions, I also score myself on the following: reaction time, strategy, and finish line (5 – awesome, 1 – terrible). If you are familiar with Luke Bogaki, and have his This Is Bracket Racing Elite's log book, then you're familiar with this process! When I started using his log book, I started rating myself in each of these three categories. It is meant for you to rate yourself on these three categories, BEFORE you look at the time ticket. It is a great way to gauge how you think you are doing/did that day, vs. how you actually did/do that day.  This process has really helped show me whether I knew what was going on during the race or not. It has encouraged me to reflect on my performance immediately after the run (usually on the return road) and helps me analyze the run. For example, if I thought I hit the tree really good (but I actually didn't), this may explain why I read the race differently at the finish line. This has been a game changer for me behind the wheel this year.
Overall, if you are looking to improve your on-track performance, I'd highly recommend figuring out tangible ways to track your on-track performance. What I have realized is that without being able to track your performance, you don't have a solid way to gauge your improvement.
I hope by sharing some of these tips, it has helped or inspired you to improve your performance behind the wheel. I'd love to hear what you guys do to track/measure your on-track performance.
Catch you next-next week,
Rachel Ogilvie
---