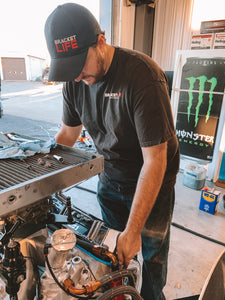 Hitting the Reset Button
Hey there, and welcome back to this week's blog post. It's Brandon here, and this week was very difficult to come up with a topic to write about or even on how to get into a space away from the craziness of the world right now.
Friday after work Rachel and I loaded up in my truck and hit the road to her parents' house. Drives to Mike and Vicki's, are when we come up with countless business ideas, racing plans, and solve the world's problems. For 2-hours, we are together (just us) with no distractions. We can't get distracted by the tv or anything else around us. We always spend this time together putting in motion bigger and better plans for where we are going to take BracketLife and how we are going to do it. Throughout the drive, we were able to get back on the same page and in control of our ship again after a wild rollercoaster of launching our business.
Saturday was another great reminder of why I love drag racing so much. I headed up to the race shop for the day with Mike, Troy, Derek and the great John Chambers. We spent the day tearing down every race car in sight. We finished cleaning them, and then pulled the engines and transmissions out of 3 different race cars to get ready for winter maintenance. That night we took advantage of the awesome November weather and had a fire in the front yard all together along with Rachel, Ashley and Vicki. Days and nights with my future in-laws and a few of my greatest friends together, are nights I appreciate so much. During the winter months, you don't know how long it could be before you see everyone again.
Sunday, once again, was spent at the race shop with Mike. We finally got to take some time to work on his equipment after he had done everyone else's (including mine). We pushed the race cars in and out of the trailer, cleaned the floors, backed off the valve trains, cleaned dragsters, and put them all back away before calling it a day. Rachel and I rolled home after a long exhausting weekend, getting back to the house around 8:30 that night.
The best part of this weekend? Not once did we think about the virus, the US election, or anything that did not have to do with going racing or making ourselves as successful as we can. I am so glad I was able to take a step back and regain focus on what is important in life. I started to get caught up in the traffic and commotion, and all I needed was a weekend spent working on race cars to get back into the right head space.
This past weekend was a reminder for me about how important it is to reflect and reset. I hope you are able to find a way to reset this week, despite the chaos happening in the world right now.
See you next time,
Brandon Barker
---
2 comments