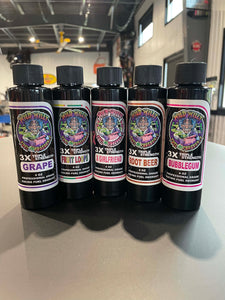 Fuel Fragrance for Dummies
Hey everyone and welcome back to the blog! It is Brandon back again this week and as you may have seen on the YouTube channel or through social media, we have a full stock of Wild Willy Fuel Fragrances. Rachel and I looked through over 60 different scents Wild Willy offers and we chose 15 to bring in which we will have in stock. So, for this week I am going to share my top 5 scents I am excited to try next year!


Root Beer – I wasn't sure about this at first because personally I take my Root Beer very seriously, but Rachel talked me into adding this to our list. The only downside to this scent will be thinking about eating a Teen Burger and Onion Rings from A&W every time I start my dragster.
Bubblegum – This is just how you would expect it to be. The classic bubble-gum scent is something everyone knows. There is no doubt in my mind this will be gone fast!
Grape – If you want to be reminded of your favorite cough syrup then this will 100% be your number 1 fuel fragrance. This is one of the three times strength scents Wild Willy offers and it packs a punch you will not be disappointed with.
Baby Powder – Who doesn't love the smell of baby powder? We use it at the race shop when putting tire tubes in and it is such a distinctive scent it will get everyone's attention!
Who's Your Daddy – I think just reading the name you already know what this is going to smell like. Men's cologne, similar to Black Ice, and it stands out! This is going to be a powerful scent I can't wait to show off!
And just so you don't feel left out in any way, these can be used in any type of fuel from gas, diesel, methanol, or anything in between. It will treat a full 55-gallon drum of methanol, 20 gallons of gas, as well as 16 gallons of diesel.
These are only 5 of the 15 scents we have in stock, so make sure you check out the BracketLife Brand website to see all the others and if you don't see exactly what you are looking for then check out Wild Willy Fuel and let us know what other scents we can bring in for you.
---