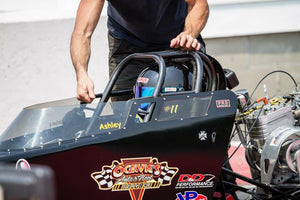 Four Championships at 20-Years Old
Hey BracketLifers!
I'm Ashley, Rachel's sister and Brandon's soon to be sister-in-law! I am so excited to be the guest blogger this week and talk to you about my bracket racing journey from a ten-year-old junior dragster driver to a 20-year-old super-pro dragster driver with 4 championships under my belt.
When Rachel and Brandon first launched BracketLife I submitted my bracket racing story to their page (https://www.instagram.com/p/B-osFfFnafV/?utm_source=ig_web_copy_link) so you might be familiar with the cliff-notes version of my story. However, today, I will go into more detail about my experience in hopes that I can relate to you and inspire others! If you haven't yet, you should definitely submit your own bracket racing story – you never know who you could inspire or who might remember you from a race they competed in years ago!
My story begins as a young kid with a sister who wouldn't shut up about drag racing. While I travelled to soccer games, cross-country competitions, track and field events, and more, Rachel had her heart set on drag-racing. I will never understand why I didn't gravitate to the sport the way my sister did. Maybe because she was older and got to travel to the track more often with our Dad. Maybe because I was much busier with other sports, or maybe because she sucked at sports and hadn't yet found her "thing" (sorry Rach!). Either way, I can say with confidence now that I wouldn't trade bracket racing for any other sport.
It was the winter of 2010 when my sister and I got our first junior dragster… to share. That's right, one dragster for two girls. I think one bathroom in a house full of girls is comparable but would still work much better! This junior was a badass-looking Mike Bos with a wing (which ended up being my sisters main ride for her first three years). However, before we officially started racing I must have gained much more interest in the sport because my parents bought a second junior which became mine. Thankfully, this meant we wouldn't have to share a ride. My dragster was a Halfscale dragster that we bought from the Reynolds family. A few months before the snow melted and racing season began, Rachel and I got our cars stickered and painted with some flames and we were wound up and ready to race!
When summer of 2011 rolled around, we started our rookie year at Shannonville Motorsports Park in Shannonville, Ontario, Canada. I remember asking my Dad about strategy and him not even letting me find out what the number on the side of my car meant because he wanted me to focus only on learning to drive a dragster. The following weekend we went to what is now my home track, Luskville Dragway in Luskville, Quebec, Canada. I went on to win this race after some coaching from my Dad, Troy Davis, and Mike Reynolds who we bought the car from. I remember for the first few years our "strategy" was to just dial two hundredths below what we went and nail the tree.
I also remember Mike telling me to pre-stage, close my eyes and take a deep breath, then stage. I think this was vital advice and I quickly created a full mental routine including way too many superstitions for my own good. I still repeat these same routines I created as a 10-year old rookie: a routine before getting in my car in the pits, driving to the lanes, sitting in the lanes, pulling onto the track, backing up from my burn-out, getting ready to pre-stage, and getting ready to hit the tree. A lot of routines, right! But, they help me lock in and keep my mind off of the many distractions that can destroy a race-day (especially as a highschool kid missing out on parties and all of those things that seemed like the end of the world at the time). My superstitions were so extreme at the time that I would mentally freak out if someone helped me push my junior to the lanes that didn't help me the round before. Thankfully, I have learned to trust my talent a little more as a super-pro driver and not depend on whether I ate the same thing, wore the same hair elastic, or talked to the same people before a round….as much! Anyone who knows me knows my superstitions are still there but hey, whatever works!
Following that first win as a junior driver, I won many races and even a Wally, but I had my mind set on a bigger goal. I was nipping at the heels of the points leaders for my first two years and finally, in 2012 I won the points championship at Luskville Dragway! It seemed like my racing success took off from there. Thinking back, I would credit this to increased confidence, competitiveness, and dedication to the sport, as well as knowing what it takes to win and being able to be consistent in what was bringing me the win lights. The following year, in 2013, I doubled-up and won the championship again. I even raced with a broken ankle (a funny story for another blog). If you know me, you know I am hardly ever satisfied, so guess what my next goal was? A three-peat. Now this, I think demonstrates the importance of a solid mental game to succeed in bracket-racing. I didn't win the championship in 2014 and I believe it had a lot to do with how bad I wanted it. I started over-thinking what I was doing and thinking about the championship more than the round right in front of me. The following year, I had nothing to lose and funny enough, I won the championship again in 2015. Again, I think because mentally I was approaching every race like it was my last. Firstly, because I had nothing to lose; I didn't get the three-peat and had nothing to prove. But secondly, because it was my final year in juniors.
Before the end of my final season in juniors, I practiced a few runs in my sister's big dragster, including a run that scared the sh*t out of my entire racing family. Let's just say she took a pretty quick turn towards the wall at the hit. Although, i'll tell you, it didn't feel as dramatic in the cockpit as the spectators made it sound and the tire marks made it look! A good experience for me, but one that likely took a few years off my parent's lives!
Jumping forward to the 2016 season opener race, and my first race as a super-pro driver, I was feeling good and like I was finally in the place I was meant to be. I made my way to the finals against Denis Souliere who took the win by a small margin. This lit a fire under my ass because I knew I was capable of making it to the finals again, but next time I wouldn't come up short. Easy to say, but not so easy to execute…especially against some of the best bracket racers in Canada. It took many other second place finishes that year, a few more in my second year, and some heartbreaking runner-ups in the first half of my third year before I finally won my first race. One runner-up finish that really stands in my third year was a .001 break-out in a $10,000 final.
I started to reflect on my performance and what I thought was stopping me from winning. I came to the conclusion that it was that I was over-thinking it all too much. Moving from foot-braking a junior dragster that you knew everything about (how 1 pound of weight would change the ET) to a super-pro dragster reacting off of a trans brake meant there were significantly more variables and a lot more to worry about. I was reading into the weather, the amount of fuel, and the sunlight way too much. It was when I read a Luke Bogacki "ThisIsBracketRacingELITE" training document about trusting yourself, and marking a time in your routine where you are no longer allowed to think about the variables, your dial-in, or your plan any longer, that my approach to winning a race changed. I no longer looked at the flags when sitting in the lanes to determine the wind, or watched what other cars were doing, and I just trusted the plan that I made in the pits.
Shortly after this change in mindset, I won my first race at Luskville Dragway in 2019 which came with a Wally and Honeywell Cup trophy. The following weekend I made the quarter finals in the $10,000 Saturday race at Wawa Airport, followed up by a $5,000 win on the Sunday. Two race weekends later, I won a third race at Luskville Dragway. I guess a three-peat just isn't meant to happen yet, I seem to like a double-win, a pause, then another win but hey, I'm not complaining!
This same year I made my way to the top of the points charts and was able to maintain it until the season end. I was the youngest driver and first female driver to win the Luskville Dragway Super-Pro Points Championship. As icing on top of the cake, I was awarded Luskville Dragway's Driver of the Year award at the year-end banquet. Winning that award was an experience unlike any other and something I never saw coming, but will forever be appreciative of.
Today, I have my eyes locked on the 2021 racing season and expanding my skill set as much as I can! I hope my blog today helped the other overly superstitious, highly competitive, and never-satisfied bracket-lifers remember that you're not alone. Success is in everyone's future; you just need to trust yourself!
Ashley Ogilvie
---
3 comments