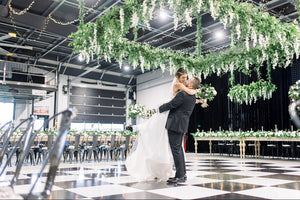 Brandon's Top 5 Last Minute Valentine's Day Gift Ideas
Hey everyone! Welcome back to the blog this week, as you read from the title, it's Brandon back with you this week. Now, I am sure there are a few people out there who might just be realizing that Monday is Valentine's Day. Yes, that is correct, it is already halfway through February. The Super Bowl is this weekend, followed by the Daytona 500 as well as the NHRA Winternationals.
So, with time flying by I am here for some ideas to get your wife, husband, girlfriend, boyfriend or whoever else you want to pick up a gift for. And do not worry, I have some pretty good ones!
Flowers – Starting off simple and easy, a classic that needs to be on the list. My recommendation though would be to find the fancy flower shop that delivers them right to their work. If your significant other is anything like mine, or even like my mother, they love the kind gesture of receiving flowers at their workplace and is a great way to put a smile on their face.
BracketLife Hats – We recently launched 2 new women's hats as well as we restocked our original Ladies camo hat. Obviously, everything BracketLife is an excellent choice as a gift any day of the year, especially on Valentine's Day. Check out our shopto see everything we have to offer!
New Delay Box – For all of you here who race or have a spouse that races, they could probably use a new delay box for this upcoming year. It doesn't matter if you already are running super pro, are a no box guy who has not tried much top bulb stuff, or you are a footbrake guy looking to try something different, or even if you don't have a car at all a delay box is a great place to start a build. We have delay boxes in stock at Ogilvie's that will fit all applications and fill your partners heart with love!
Fondue Kit – Something Rachel has done with her family for a long time is have fondue on Valentine's Day together. Her and I have began doing that together as well. We actually went to a fondue restaurant with Rachel's sister and her boyfriend a couple of years ago. Even though it is not my favorite thing ever, it still is a great once a year thing we do.
A Nice Dinner Out – Everyone loves when they do not have to cook dinner or clean up. A night out would be great to just hangout and relax with your spouse or family. If you don't want to go out, then a night works just as good. Rachel and I will pick up dinner, open up the pull-out couch and watch a movie together in the living room for something different. And right now, there are so many great local restaurants that would love your business and support. I would recommend picking up a heart shaped pizza!
There are my top 5 last minute Valentine's Day gift ideas. Let me know if anyone here uses one of my recommendations and how it goes for you! If all goes well for me, Rachel will read this and pick me up a meat lovers pizza with extra cheese, heart shaped or not I will appreciate every pizza of it.
Catch you next time, 
Brandon Barker
---
1 comment