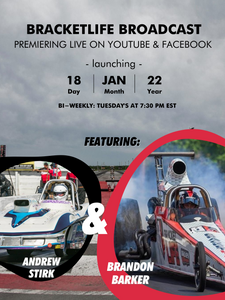 BracketLife Broadcast
Hello everyone, welcome back to the blog! This week it's Brandon back with you to introduce our latest addition to the BL Brand – BracketLife Broadcast. This will be a bi-weekly show every other Tuesday night at 7:30 pm EST. We will stream it exclusively on Facebook & YouTube, LIVE! The show will be myself along with multi-time champion (in multiple classes and series), Andrew Stirk.
BracketLife Broadcast will focus on Canadian Drag Racing, with our main focus being on sportsman/bracket racing. Discussions about events coming up, results from the weekend prior, as well as personal opinions and stories we have picked up along the way will be shared. We will also be joined by special guests, from time to time, to bring insight and information from coast to coast across Canada.
I am very excited about this new adventure because first, I have always wanted to shine a bigger spotlight on Canadian Drag Racing along with the racers and their stories. And instead of waiting for someone else to bring it to us, I decided to take on this task myself. Creating a central place for news, race highlights, and event winners will create a huge opportunity for us to push Canadian Drag Racing out into a larger market, spreading awareness for what we all have going on.
Secondly, since I started BracketLife Brand, I have been able to meet so many racers from across the country that I had no idea were out there. Now, after getting to know them and working together with different tracks, promoters, and racers I have had my eyes opened to just how strong bracket racing really is in Canada.
When I was brainstorming who I wanted to have as a co-host on the show, it didn't take me long to figure out that I wanted to work with Andrew Stirk. Andrew and I have known each other for roughly 10 years now, and we met when I first started attending his DSE Sportsman Series events. Since then, we have spoke many times and have established mutual respect for one another. After a few hour-long phone calls, I made the decision that Andrew would be the perfect co-host for a show based on Canadian Drag Racing. Not only has Andrew been around to see a whole lot, but his dad has been around even longer. We also both race similar styles and events, but I race mainly in Quebec while he is in Southern Ontario; so we are close enough to both be mixed into the same circles, but far enough apart from each other that we see different experiences and form different opinions on certain topics.
When it came to the format of the show, I wanted it to be streamed in real-time. The great part about streaming live will be the ability to interact with viewers in real time as they comment on the video or send us messages. We want it to be an interactive experience for everyone to be involved in.
This is going to be a great addition to BracketLife Brand, and I hope it becomes a great resource for all Canadian Drag Racing as we continue to grow our sport.
See you next time,
Brandon Barker
---
3 comments