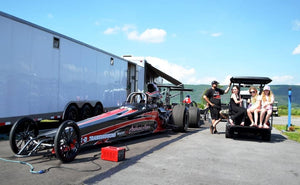 Back on Track
We are back! In case you might have missed it, Rachel and I spent the weekend at our home away from home. Luskville Dragway was our first destination of the summer.
To be honest, we did not have the glamorous beginning we had hoped for. We decided to hit the road Thursday night to get a head start, which would give us more time to catch up with friends. I hit the road with my mom first, then picked up my brother (Daniel) in Kingston. After that, we set out to grab Rachel (who was already at her parents) and where we needed to pick up the trailer.
However, when I started the motorhome to begin the drive, I realized only a couple of our clearance lights were working. This is a big problem when driving a 75-foot-long truck and trailer down the highway at night. Luckily for us it was bright enough in the evening to make it to the Ogilvie shop before dark so we could check it out with Mike. This problem proceeded to be a pain for us over the course of the next 3 hours as we searched for a short in the electrical circuit, but we did win the fight!
At about 10:30 Thursday night, Rachel, my mom (Sherry), brother and I hit the road for the track. It was an easy drive from then on and we were parked sometime just before 1 in the morning. That night was probably the best sleep I had in a long time. It was so relaxing to finally be at the race track once again.
Friday, we hung out with friends, got the cars out and everything set just the way I liked. Once we got on the track it was just like riding a bike. I hopped back in and it felt like home. The first burnout was a blast and everything I hoped it would be. I really fell back in love with drag racing and was reminded why I work so hard for this sport.
Saturday morning, I started the day off with a patented breakfast cheeseburger. We battled rain off and on all day before calling it for the day, just before Round 4. Sunday was hot all day long and reminded us of what it was like to walk around in fire suits in 30+ degree weather!
We did not see the success we had hoped for on the track, bowing out of Saturday's race in round 6 and Sunday's race round 3. The good news is we did not break any race cars and drove them all into the trailer!
It was great to be back with our racing family and see everyone again, and I can't wait to be back out again!
See you next time,
Brandon Barker
---