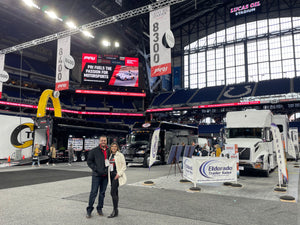 A Wild Week at PRI
Hey everyone, welcome back to the blog. It is Brandon here in this busy week for us as we are still trying to recover from our trip to Indiana while getting ready to leave for Mexico on Thursday for our honeymoon! But first things first I want to give you an update on our trip to PRI and all the excitement along with it.
So, to get started, Mike and Vicki (my in-laws) picked Rachel and I up at our house around 7:30 Wednesday morning and we hit the road. We ran into traffic coming through Toronto and lost some time crossing the border at Port Huron but overall had no real set backs on the drive. It wasn't until 7:30 that night we got to the hotel and decided to hit Cracker Barrel for some dinner. I know that many of my Canadian friends and readers might forget but the food in the USA is ridiculously delicious.
Thursday was an early start so we could get to the show by 7 AM for the Opening Ceremonies and a welcome breakfast with over 2,000 other show guests. We got to listen to excellent speakers highlighted by Roger Penske speaking about his personal business practices. Following this we headed into the show for the first time to find a huge number of vendors and businesses all set up and ready for opportunity! For most of the day we just cruised around the show trying to take it all in and get our bearings. The after party was the real surprise of the day as you can see in this weeks YouTube video, there was a band, they had a complimentary beer bar as well as a complete dinner buffet set up for all the attendees. We enjoyed the buffet so much all we needed for the rest of the night we a quick trip to DQ for some ice cream before we packed it in!
Then Friday morning we were a little more relaxed on when to get to the show so we could be a little more refreshed. We start out touring around some more and began talking to different vendors and making contacts as well as meeting friends we have met online over the last few years with BracketLife. The coolest parts of meeting different people was when they had already heard about or seen BracketLife. It is always great to have that kind of "validation" that the work you are doing is really getting you somewhere and making progress. Friday night we tried to get over to Texas Roadhouse but the 2 hour wait sent us to Applebee's for an excellent dinner.
We finished off our PRI experience Saturday meeting more folks and finishing off some new deals which we will be able to share in a few weeks, but this was the day we were able to really get some progress made. This whole experience was such a whirlwind just like we had expected it to be but was so worth it. The night ended with a ridiculous meal at Chili's and packing up for the long tour home in the morning.
For everyone wondering how it was going over and back across the US border over 72 hours, for us it fortunately wasn't a huge hassle. We scheduled a drive thru covid test for Thursday at noon which was only around the corner from the show. So, we headed to CVS and got in the drive thru line where we administered our own tests, returned them to the counter and waited for our results. It took 2 days for us to receive our results, which then we had screenshotted on Rachel's phone. Saturday night we filled out the ArriveCAN information with the app on our phone which then gave us a QR code that we also screenshotted and kept on Rachel's phone.
When you are coming back to Canada from the USA your covid test "expires" after 72 hours so since we had ours done Thursday, we had until 12 noon on Sunday to be back across the border which meant an early ride home! We were able to be on the road just after 5 AM which set us at the border around 10:30. We wanted to leave some room for if we ran into traffic or got slowed down on the drive. So, when we arrived to cross back over, we showed our passports to the border officer as well as Rachel's phone with all the information of negative tests and our QR codes and we were good to go.
So that overall was our trip! It was busy, tiring, but was such a great experience and I can not wait for next years show!
Thank you all so much for coming back and keeping up with us every week. I hope you enjoyed it and cannot wait to share more stories about everything BracketLife!
Brandon Barker
---
1 comment